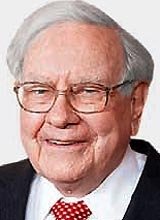 Legendary investor and Berkshire Hathaway chief Warren Buffett said he had no intention of joining U.S. business leaders who are criticizing U.S. President Donald Trump. It is an unexpected reaction considering that he supported Trump's rival Hillary Clinton in the 2016 U.S. presidential election.
In an interview with CNBC on Wednesday, Buffett said he tries not to mix business and politics. Buffett said he was disappointed by the 2016 election result. "I worked for Hillary. I raised money for Hillary. I voted for Hillary. I was disappointed when she lost." But Buffett argued that "this country will move forward (under Trump). It is important that government functions well."
Buffett, who turned 87 on Wednesday, said he's lived through 15 of the 45 presidents, or one-third of 45 U.S. presidents. He was two when Herbert Hoover left the presidency. He has traded stocks under the next 14 presidents. He said he I bought stocks under Franklin Roosevelt, "even though my dad thought it was the end of the world when he got elected."

The so-called "Sage of Omaha" had a question mark over the Trump administration's economic performance. Buffett said he does not think the economy feels like it's growing at 3 percent, a level Trump set as a goal for when the president got elected.
Su-Yeon Kim sykim@donga.com