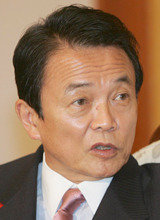 Japanese Finance Minister Taro Aso (77), who is known for his reckless remarks, has retracted his comments providing nuance that he was praising Adolf Hitler who ignited the Second World War.
"Motives will not be asked. Results are important for Politicians. Hitler, who killed millions of people, cannot be justified even if his motive was right," Aso said at a meeting of his faction of the party in Yokohama, according to the Asahi Shimbun and other Japanese media outlets on Wednesday.
Aso's comments sparked controversy immediately as he appeared to be defending the motive of Hitler who pursued the genocide. An opposition party member has even demanded Aso's resignation. Aso explained to the media that he was referring to "Germany's prosperity" regarding Hitler's right motive.
However, as the controversy seemed to be heated up more intensely, Aso tried to cool down it, saying, "It was inappropriate to cite Hitler as an example and I want to retract my comments. It is obvious that Hitler's motive was wrong."
It is not the first time that Aso has made thoughtless comments about the Nazis. In July 2013, Aso suggested that Japan should learn from the Nazis when changing the constitution by referring to Germany's Weimar Constitution, which had been secretly revised by the Nazis, to justify the validity of constitutional revision during his lecture in Tokyo. His remarks had drawn international criticism and he had to retract his comments amid condemnations from Jewish human rights groups.
Aso is a grandson of the founder of Aso Group, which is responsible for using forced labor of more than 10,000 Korean workers for mining during the Japanese occupation period. However, he does not seem to feel sorry for the past. Instead, his remarks in 2003 during his lecture at the University of Tokyo that Koreans had wanted to change their first name, which created an angry backlash from the Korean government.
Won-Jae Jang peacechaos@donga.com