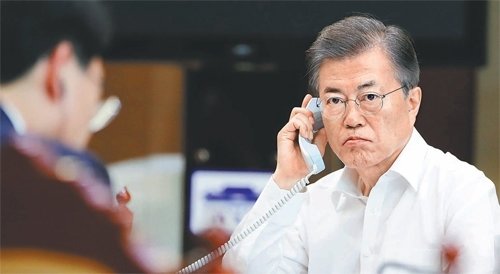 Kim Jong Un, the chairman of the Workers' Party of Korea, claimed on Tuesday that North Korea's provocative launch of an intermediate-range ballistic missile (IRBM) was "the first step of military operations in the Pacific and a prelude to containing Guam." In response, South Korea, the U.S. and Japan plan to adopt one of the strongest UN resolutions with measures to cut supply of crude oil to the North.
Kim Jong Un guided the North's drill for the Tuesday's launch of Hwasong-12 intermediate-range ballistic missile and described it as "the beginning of its firm and responsive actions against the Ulchi Freedom Guardian (UFG) joint exercise," North Korea's state-run Korean Central News Agency (KCNA) reported on Wednesday. "The North should conduct more missile launch drills into the Pacific to advance, strengthen and modernize its strategic capabilities," KCNA quoted Kim's remarks. The news outlet also reported that the North launched its Hwasong-12 intermediate-range ballistic missile on Tuesday as promised and clarified the missile had targeted the U.S. Pacific island of Guam, threatening additional provocations aiming the island.
"As declared, the North will continue to watch actions from the U.S. before the country decides on future actions," Kim said.
After a phone conversation with Japanese Prime Minister Shinzo Abe, South Korean President Moon Jae-in said the North's launch of missile that flew over the Japanese territory was "extreme violence to a neighboring country." "Two leaders shared the common ground that pressure on the North must increase to its maximum level to make the North come to the table by itself," said South Korea's presidential spokesperson Park Soo-hyun. "The two leaders have agreed that they will push for the UN resolution to embody more specific and effective measures on North Korea and to work together in soliciting cooperation from China and Russia."
In this context, South Korea, the U.S. and Japan seek to build stricter resolutions from the UN Security Council with measures including banning exports of crude oil to the North. Such measure was excluded from the August 5th resolution on North Korea due to China's opposition. The UN Security Council convened an emergency meeting on Tuesday (local time), lamented the North's missile launch and unanimously adopted a declaration to urge the North to stop its nuclear and missile programs.
weappon@donga.com · hic@donga.com