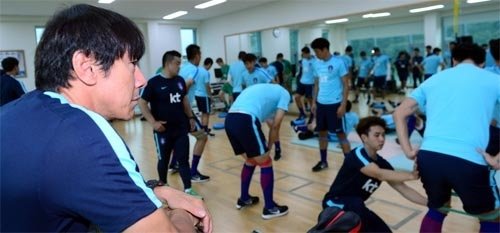 "During my flight to Korea, I agonized about my role while reading materials provided by the Korean national team."
This is what Koo Ja-cheol (Augsburg) had to say upon arriving at the National Football Center in Paju, Gyeonggi Province on Monday. A player active in Europe, Koo joined the national team a week after players from the K League and the Chinese league who were called earlier, but he already seemed to have figured out the color of the first roster of the national team led by coach Shin Tae-yong. "Coach Shin Tae-yong wants soccer whose ball speed is fast," Koo said. Those playing in European leagues had a chance to learn by themselves during their flight to Korea, despite joining the national team later than others, due to coach Shin's careful preparation.
"We sent by email materials on tactics that can be construed as a 'manual book' and videos to players from Europe and other regions who could not be called in earlier," a source in the national team said. "The manual book included the positions and roles the players will play in the team, and analysis of the opponent team." The manual book was prepared to address the national team's weakness from the fact that the team has only three days during which they can practice as a 'complete group.' "The national team gave materials on physical training to those playing in Europe once in the past, but it is the first time that we gave materials on tactics with which the players can study on their own," the source said.
Shin's efforts emphasizing details in exercise have been spotted at the training site as well. There are 12 white lines marked at an interval of 12 meters each on the ground at the National Football Center. The ground looks similar to that for American football.
"While analyzing the first to eighth matches in the final qualifying round, I figured out that Team Korea lost many points (10) because the gaps between pullbacks and the midfielder were too wide," Shin said. "We drew the lines to practice how to maintain distances between players." During training, Shin is meticulously instructing players about locations wherein they must zero in and defense postures according to movements of the opponent team's strikers.
For the match against Iran, Team Korea conducted exercise Tuesday at the Seoul World Cup Stadium, the venue of the upcoming match, to coordinate and improve athletic sense in real matches.
Yun-Cheol Jeong trigger@donga.com