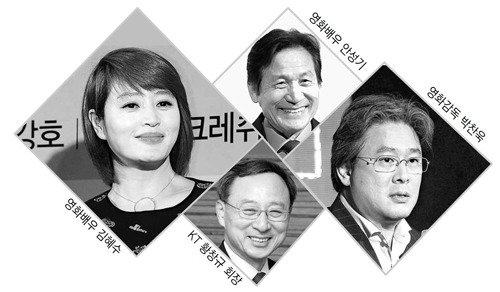 Pianist Cho Seong-jin's recital was held in January this year at Lotte Concert Hall in Seoul. Film director Park Chan-wook was present at the lobby full of audience. "Park is very fond of classical music," a concert staff said. "He goes to concerts of not only famous musicians but also those relatively unknown."
Celebrities' social networking services post photos of concerts of famous pop groups or pop singers, but it is rare to see photos of classical concerts. Most people come and leave quietly.
Park is a fan of classical music. He often gives out classical CDs to actors and actresses. At an interview with a classics magazine, Park said, "I have used baroque age music a lot in my movies but in normal times I like listening to symphonies." He went to see the concert of Ensemble Intercontemporain, a modern music performance group.
Actor Ahn Sung-ki is also a classical music fan. He often goes to the Pyongchang Daegwanryeong music festival in Pyongchang, Gangwon Province, which is far from Seoul. Actors Lee Jeong-jae, Chung Woo-sung and Yoo Ji-tae are also classical music fans.
Actress Ha Yeon-soo is a harp music mania. "Ha books harp concerts by subscribing to them under real name," Kumho Art Hall staff said. Comedian Park Ji-seon is a fan of violist Richard Yongjae O'Neil, and has not only attended his concerts but also has been an emcee at his concert.
Ham Young-joon, chairman of food maker Ottogi, and Hwang Chang-kyu, chairman of telecom company KT, also have great insights on classical music.
Dong-Wook Kim creating@donga.com