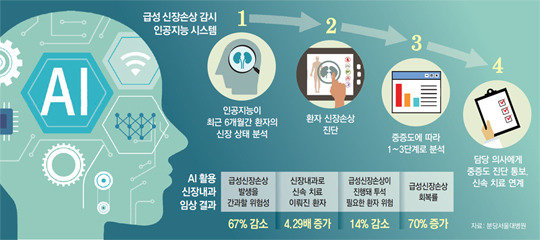 Clinical treatment involving artificial intelligence was adopted for the patients of acute renal impairment for the first time in Korea, suggesting that the recovery possibility has improved by 70 percent. This marks the first time to try such a treatment procedure where AI computers assess the renal function of patients and inform the medial staff, thereby assessing the effect of treatment.
In June 2014, a medical research team from the Department of Kidney Internal Medicine at Seoul National University Bundang Hospital, led by Prof. Kim Se-jung and Jin Ho-jun, developed an artificial intelligence monitoring system for acute renal impairment patients along with the hospital's medical information unit. On last Monday, the two professors and their team analyzed major indicators of acute renal impairment of both pre-treatment (1,884) and post-treatment patients (1,309), the introduction of the AI system increased the rate of expedited treatment by 6.13 times. The system also boosted the recovery possibility by 70 percent. By contrast, the introduction of the system lowered the possibility of the patient's condition developing into serious acute renal impairment by 25 percent, which requires dialysis.
The AI system makes an early detection of acute renal damage by analyzing the result of blood test in the latest six months and immediately informs the doctor after categorizing the damage level into three and identifying the case. Acute renal impairment is a condition in which the patient's kidney cells are damaged, and his renal function rapidly deteriorates, which requires dialysis or could even lead to death when left unattended at earlier stages. The death rate of acute renal impairment at intensive care units runs as high as 50 percent.
"For now, the progress is at an early stage where the system can notify the diagnosis in real-time," ," said Prof. Kim. "Our goal is to advance the technology further to predict the renal damage of inpatients and automatically provide the doctors with instructions tailored to the needs of the patients concerned." The research findings were published in the American Journal of Kidney Diseases, one of the most prestigious academic journals on kidney.
Jin-Han Lee likeday@donga.com