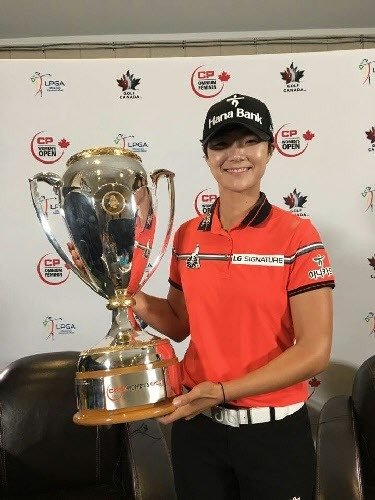 South Korean female golfer Park Sung-hyun held up her victory trophy for the first time. She also wrote a new playbook of Korean players' first five successive wins at LPGA Tour.
At the Canada Pacific Women's Open in Ottawa Hunt and Golf Club in Canada on Sunday local time, she started the final round at joint 12th lagging behind four hits, but swept seven under pars for a total of 13 under pars, beating second-running Lee Mi-rim by two strokes.
Thanks to Park's win, Korean players marked five straight wins following Marathon Classics (Kim In-kyung), Ladies Scottish Open (Lee Mi-hyang) and British Women's Open (Kim In-kyung). Previously, Koreans made four straight wins four times including this year and in 2015. Four straight wins at LPGA Tour were recorded by Nancy Lopex and Annika Sorenstam. Back then, five straight wins were recorded by one player but the five successive wins by Korea were made in turns. This means that there are many competent Korean players.
"I really think that Korean players are great," Park said. "It is an honor that I could one of them."
A super rookie leading Korean power, Park is on track to get a rookie award, and is currently ranking first in prize money. There was no one who won both rookie award and prize money at the LPGA Tour since Shin Ji-ae in 2009. Park ranked second in terms of average hits and the player of this year. Nancy Lopez is the only player in LPGA history who grabbed rookie, player of the year and Vare Trophy. Her junior high school teacher had told that in order to rise to top, she should think and act differently, and those lessons have driven Park to yearn for a differentiated goal.
Jong-Seok Kim kjs0123@donga.com