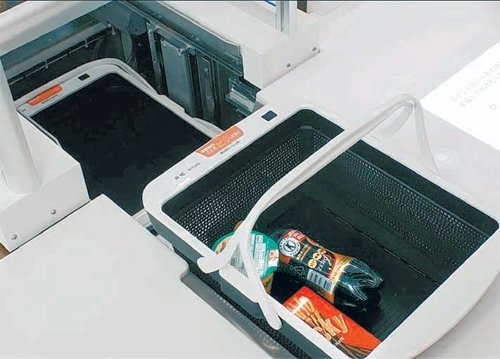 The U.S. may exceed in technology, but Japan is ahead for its introduction when it comes to self-checkout.
Amazon Go with no checkout counters amazed both IT and distribution industry at the end of last year. It was the combination of latest technologies including AI and image sensor. Although Amazon did not reveal how the system works, the IT industry presented many guesses based on Amazon's patent list. When a customer enters the store after starting the application, cameras placed in every corner follow him or her. Also, sound waves and voice recognition and other technologies are applied. When a customer picks an item, sensors nearby read it and the AI manages the artificial cart of the customer.
"It would require a tremendous amount of miney to have dozens of cameras using deep learning," a domestic distribution industry insider said. "Also, it takes time to catch up the applied technologies."
While Amazon Go presented the future of distribution industry using high-priced and advanced technology, Japan is now focusing on practical issues. Japan promotes to introduce self checkouts in order to overcome the labor shortage due to aging population and low birth rate.
The Ministry of Economy, Trade and Industry of Japan said in April that it would cooperate with Seven-Eleven, FamilyMart, and three other top convenience store chains of the country to install self-checkout registers to their entire stores by 2025.
The reason why Japanese convenience store chains declare an era of self-checkout with support from the government is to encourage manufacturers to attach standard Radio-Frequency Identification (RFID) tags to their products. The barcode reader system has a possibility of malfunctions. However, RFID does not require scanning, which means it is extremely rare to misrecognize products.
Manufacturers should pay extra charges if the installation of RFID tag system becomes compulsory. However, the price has dropped by 100 won, which was previously priced at 1,000 won per unit.
The industry predicts that manufacturers should follow the lead of convenience store chains, if the top five chains begin to implement the standardized system as they play a critical role in the distribution industry of Japan.
Hyoun-Soo Kim kimhs@donga.com