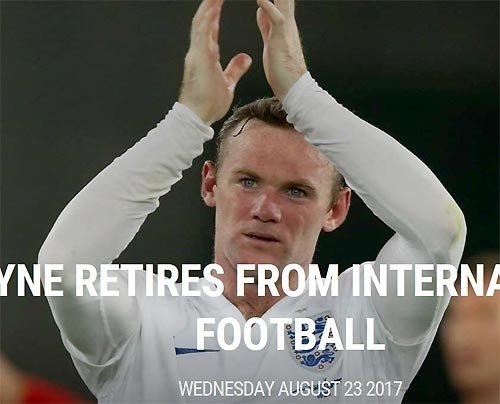 As the main striker who has led the offense for over 10 years at the home of soccer, Wayne Rooney has announced his retirement from the national team.
"It was great that Gareth Southgate called me this week to tell me he wanted me back in the England squad for the upcoming matches. I really appreciated that. However, having already thought long and hard, I told Gareth that I had now decided to retire for good from international football. It is a really tough decision and one I have discussed with my family, my manager at Everton and those closest to me. But I believe now is the time to bow out," Rooney, at 32, said via his social account.
At the age of 17 years and 111 days, Rooney made his debut at the A match when England was playing against Australia on Feb. 12, 2003. He scored a total of 53 goals from his 119 A matches, which placed himself as the second most frequent field player for the England squad following former England national team goalkeeper Peter Shilton. While Rooney holds the title as the highest scorer for the national team, he was always disappointed by the mediocre results. "I will always remain a passionate England fan," said Rooney. "One of my very few regrets is not to have been part of a successful England tournament side."
Though playing for the national team at the World Cup and the UEFA European Football Championship three times each, he never made it to the semi-finals. Moreover, Rooney scored only one goal during his eleven participations at World Cup finals.
Jong-Seok Lee wing@donga.com