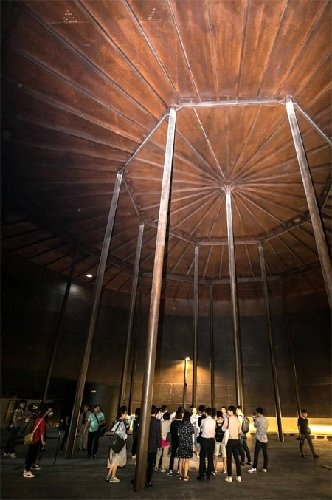 The Mapo Oil Reserve Base, a top secret facility to which citizens had no access for 41 years, will turn into a multi-cultural space. "The 'Cultural Reserve Base' Project costing 47 billion won (41.6 million U.S. dollars) launched from January 2013 will officially open on Sept. 1," the Seoul metropolitan government said on Thursday.
Located in Mt. Maebong between the Seoul World Cup Stadium and the Digital Media City in Mapo district, the oil reserve base was a private oil reserve facility for the Seoul metropolitan area, which was built in the wake of the first oil crisis in 1974 to prepare for emergency situations. When it was constructed in 1976, it was designated as a security facility, completely blocking citizens' access to the facility. When the Seoul World Cup Stadium was built for the 2002 Korea-Japan World Cup, it was reclassified as a risk facility and shut down in November 2000.
The Seoul metropolitan government has decided to the space into a park for everyone. It is about seven minutes on foot from the World Cup Stadium Station.
The city started construction in December 2015 in a way to reuse and recycle existing resources including oil reserve tanks, interior and exterior materials and retaining walls. It built a community center by recycling steel sheets from two oil tanks (one is 15 meters high with 15.4 meters in diameter and the other is 15 meters high with 37.7 meters in diameter).
The city will offer a wide range of programs including culture, arts and ecology until the end of the year once it opens next month. "Marche@CultureReserveBase" where eco-friendly urban farmers and local young creators participate and "Ukupepe" where ukulele players from across the country compete to be in the Guinness Book of Records. Further details can be found in the Mountain and Park website of the Seoul city government (parks.seoul.go.kr). "The Cultural Reserve Base will be a space where people gather and stimulate the regional economy," said Choi Yoon-jong, head of the urban city department at the Seoul city government.
Ji-Young Jeong jjy2011@donga.com