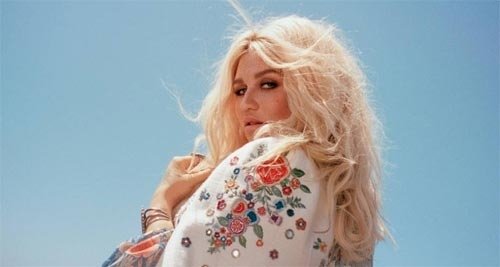 The word "masterpiece" may be too much for an album released by a singer who just turned 30 this year, but her recent record definitely deserves the laurel. The fame goes to the album titled "Rainbow" by U.S. pop star Kesha (Kesha Rose Sebert) who released her album in five years.
Her roar peaks at the height of her career with the song "Praying." As a singer returned from the fiery pit with scars all over her life, Kesha climbs up and down the skyscrapers of emotions for 48 minutes with her 14 songs, vividly presenting her painful yet delightful harangue.
Then what happened to the promising pop singer for the past several years? In 2014, she sued her producer, Dr. Luke who is also famous for his fame in the scene. Kesha argued that her producer exploited her sexually, emotionally and economically for several years. Enraged by her behind story, her fans took the streets to support her, but the court is still in case for four years. Even Lady Gaga will appear at the court as her witness next month.
Though Kesha wrote 80 songs, which depicted her heartbroken feelings for the time being, those songs were just left on scores, as the defendant still was binded by the contract. In her belated album, Kesha finally was unshackled from Dr. Luke, and produced the album by herself.
"I hope you're somewhere praying, praying
I hope your soul is changing, changing
I hope you find your peace
Falling on your knees, praying"
The spoken intro she murmurs during the very first part of her music video sounds like the question while lost in the Wolds. "Am I dead? Or is this one of those dreams? If I am alive, why? Why? If there is a God or whatever, something, somewhere, why have I been abandoned by everyone and everything I've ever known? I've ever loved?"
The great journey ends with the last track "Spaceship." The lyrics sound as if answered by God. "II always said when I'm gone, when I'm dead. Don't lay me down with the dirt on my head. You won't need a shovel, you don't need a cold headstone."
imi@donga.com