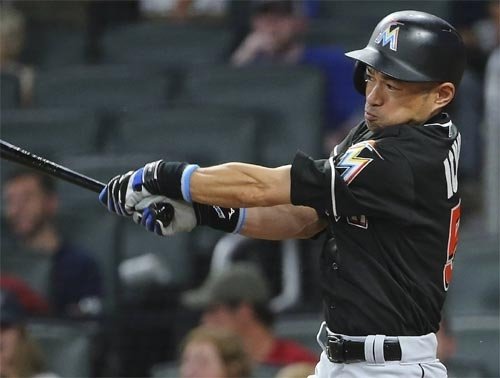 Miami Marlins outfielder Ichiro Suzuki (43), who is the first Asian player to rack up 3,000 hits in the Major League, has seemed to be affected by the passing of the time. He has been on the field as a backup outfielder of the Marlins this year and only started 17 games. However, though he has not been appeared often in the games, he is breaking new records with more hits.
In the seventh inning of a doubleheader opener game against the Philadelphia Phillies on Tuesday local time, Ichiro, who was pinch hitting, hit a three-run homer into the stands in right center against Phillies starting pitcher Aaron Nola and broke a 3-3 tie, while two other teammates reached to the first and second bases with zero outs. Thanks to Ichiro's third homer this season, the Marlins won the game 12-8.
Tuesday's home run was his 21st hit as a pinch hitter this season, more than a half of the total 37 hits he marked this season. As of Tuesday, he ranks top in the Major League for the record of pinch hits this season. Ichiro also marked the team's single-season record of 21 pinch hits previously set by Ross Gload in 2009.
Heon-Jae Lee uni@donga.com