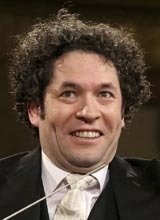 Gustavo Dudamel, the internationally-famed operatic conductor of the Los Angeles Philharmonic from Venezuela, criticized his country's government, with President Nicolas Maduro retorting back with tart remarks.
On Sunday, the LA Times reported that a Venezuelan violinist named Wuilly Arteaga was released from prison on August 15 after having been incarcerated for preaching peaceful protest in an antigovernment demonstration, and Dudamel was reported to have been involved in the negotiation to set him free. Arteaga became famous as a "violist of peace" for taking his violin to the chaotic streets to call on the riot police and the protesters not to resort on violence. The LA Times reported that Dudamel refrained from commenting on his role in the negotiation on Arteaga.
The internationally-famed conductor from Venezuela began to take a harsh tone against the Maduro administration after one of El Sistema students was shot to death during an antigovernment protest in May. "I demand that the president and his government right their wrongs and listen to the voice of the people. Enough is enough," said Dudamel on his Facebook after the incident.
Dudamel is not the only former Maduro supporter to have turned their coat. Once a fervent supporter of the Maduro administration, Former Attorney General Luisa Ortega has also became a critic against President Maduro's increasingly autocratic moves. On August 5, Ortega was sacked by a unanimous decision by the constituent national assembly of Venezuela, and she fled to Colombia Friday with her husband and incumbent assemblyman German Ferrer.
wizi@donga.com