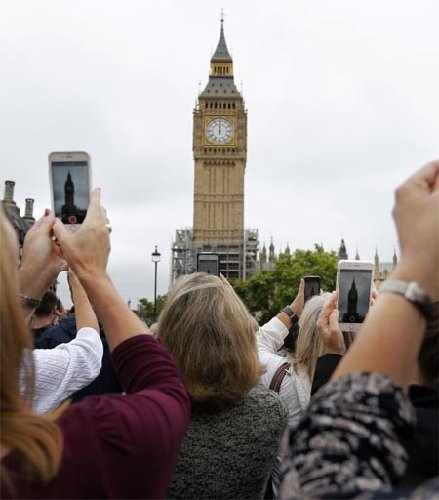 Big Ben, the symbol of England and the British Parliament, has been silenced for repair work from Monday noon.
Big Ben, which had rung every 15 minutes for most of the past 157 years, is going to be silent for hearing protection of workers mobilized at remodeling construction work. London House of Commons plans to raise energy efficiency and redo building interior while repairing Big Ben building.
British people gathered outside Parliament to witness Big Ben's bongs for the last time before it falls silent until 2021. Labour MP Stephen Pound said traditionalists would gather "with our heads bowed and hope in our hearts for silence at noon."
It comes after a concern in Parliament over the silencing of Big Ben that hasn't stopped even during World War II. Conservative MP Conor Burns recently told BBC, "House of Commons commission is achieving something that even the Luftwaffe couldn't achieve, stopping Big Ben." His comment reflects the British pride as Big Ben survived German bombing raids during World War II.
Prime Minister Theresa May also chimed into a growing revolt about Big Ben as one of her first acts after coming back from holiday. The prime minister said the decision to silence the famous bell for four years for repairs "can't be right" and asked Parliament for urgent review.
Parliament decided to discuss whether to ring the bell next month when it returns after adjournment. Parliament leaders are examining whether to ring Big Ben on major national holidays including New Year's Eve and Remembrance Sunday in November.
Jung-Min Dong ditto@donga.com