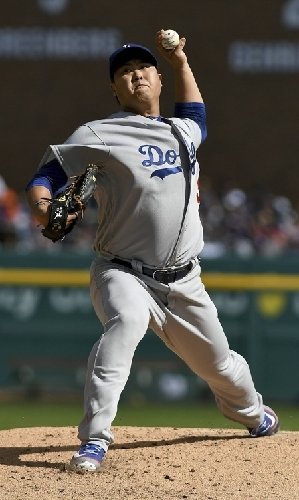 Los Angeles Dodgers pitcher Ryu Hyun-jin pitched five scoreless innings, and allowed only three hits until the fifth inning. Still, Ryu failed to collect a winning point, as Dodgers batters ended the long row of zeros and started to strike fire since the seventh inning.
At an away game with Detroit on Sunday, Ryu laid the foundation for Dodgers to win the game at 3-0, throwing for five innings (3 hits, 4 four-balls, 4 strike-outs) without losing a point as the starting pitcher. Dodgers continued their winning streak for six consecutive games.
After throwing for five innings, Ryu finally exceeded his 100 innings per season for the first time since his shoulder surgery in 2015, which he set in three seasons since the 2014 season. This game also marks as his third game this season that he recorded no losing points. Thanks to the result, his ERA went down to the lowest this season at 3.45.
Nevertheless, Ryu is still recording four wins and six loses, as Dodgers batters failed to hit whenever Ryu was on the mound. At the current time, Ryu is placed at the 75th (4.28) in terms of contributing to points among 101 Major Leaguers who threw over 100 innings this season.
"Given the pressure from Dodgers manager Roberts, Ryu will be faced with a double jeopardy of showing great performances while adjusting the number of pitches. Ryu has contributed less when it comes to recording points," said sports commentator Song Jae-woo. "Still, the most valuable meaning that Ryu may have with his current performance would be securing his position in the starting line-up without suffering side effects from his injury."
Bo-Mi Im bom@donga.com