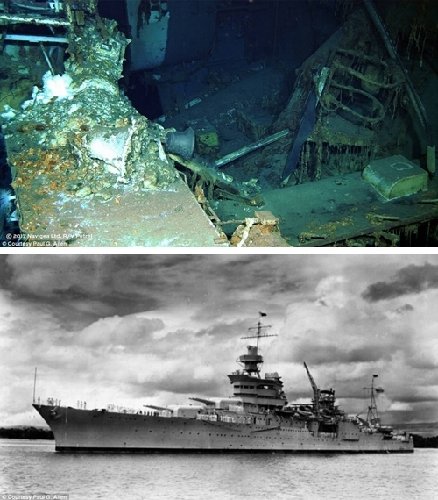 The remains of the second world war cruiser USS Indianapolis have been found on last Friday on the floor of the Pacific Ocean near the Philippines, 5,500 meters below the surface after it was torpedoed by a Japanese submarine in the final days of the war.
The ship was hit on July 30, 1945 while sailing to the next operation area after delivering parts of an atomic bomb to the Tinian Island, the launching point for the atomic bomb attacks against Hiroshima and Nagasaki, Japan. The 9,800-ton heavy cruiser sank in 12 minutes after two torpedo attacks. Some 900 of the ship's 1,197 sailors and marines initially survived the maritime disaster, but only 317 ultimately survived. It was the worst disaster with the highest casualties of 880 as a single vessel sink in the history of US Navy.
A team of civilian researchers led by Microsoft co-founder Paul Allen discovered the cruiser's wreckage. Allen, whose net worth exceeds 20 billion dollars, is well known for his project to launch civilian spaceships, but he also invested a lump sum of money to explore the ocean. Allen's submarine can explore the deep sea below 6,000 meters and is now searching for legendary vanished battleships. In March, his team found an Italian destroyer that was sunk during the second world war in a ditch at a depth of 3,700 meters, off the coast of Malta. The team also found Musashi, the largest battleship of Japan, in March 2015.
Sung-Ha Joo zsh75@donga.com