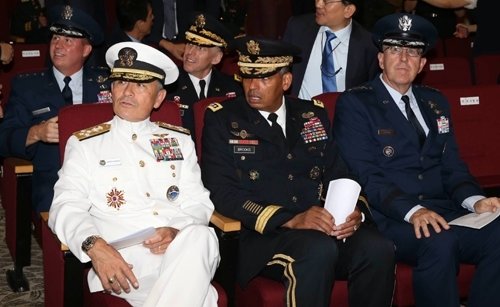 The Ulchi Freedom Guardian (UFG) exercise is commonly referred to as the two major Korea-U.S. military drills along with Field Training Exercise and Key Resolve exercises held in March and April every year. UFG is a military training held to enhance warfare competency in light of a total war in the Korean Peninsula, and also done to master reinforcement of U.S. military troops from the main land. One of the key goals of these exercises is to shore up readiness on local provocations from North Korea, such as the shelling at the Yeonpyeong Island. As a computer-simulated Command Post Exercises, the military drills are quite different compared to field maneuvers, which required actual equipment.
According to military officials, UFG is stipulated as a "defense-oriented drill." The core of the drill is to put defense first in place based on the operational plans of Korea-U.S. Joint Forces during warfare such as "OPLAN 5015" under the assumption that North Korea stages an all-out war to South Korea with nuclear weapons and other missiles. All in all, the exercise is not intended under the assumption that the KORUS Forces make preemptive attack. The name "Ulchi" also came from the name of the Goguryeo military leader Ulchimundeok who watered down the 300,000 Sui Dynasty soldiers during the seventh century. "There is no reason for North Korea to resist the drill, as it was based on the scenario that cannot be used when North Korea does not attack South Korea," said a military official.
However, the training scenario does not end with defense. The OPLAN includes various scenarios, ranging from the counterattack from KORUS alliance once North Korea shows waning fighting power, driving out North Korean leaderships including Kim Jong Un in order to deter re-attacks after the counterattack succeeds, eliminating Weapons of Mass Destruction (WMD) including nuclear and biochemical weapons, and follow-up actions such as stabilizing the North Korean region. Therefore, Pyeongyang is strongly resisting every time the two nations prepare the joint drills annually, labeling the drill as "a blind act that may trigger nuclear warfare and preemptive attack to the North."
North Korea held an armed protest by staging a surprise launch of its Submarine-Launched Ballistic Missile (SLBM) on Aug. 24 last year, just two days after the initiation of the 2016 UFG.
Hyo-Ju Son hjson@donga.com · In-Chan Hwang hic@donga.com