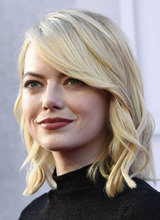 Emma Stone, the winner of the Oscar for her role in the movie La La Land, has also enjoyed the honor of being the most lucrative actress of the year. The Forbes reported Wednesday that Emma Stone earned 26 U.S. million dollars this year (from June last year to June this year), higher than Jennifer Lawrence (ranked third this year with 24 million dollars), who topped the list as the highest-paid actress last year.
The movie La La Land, in which she played a female lead, hit the jackpot this year, grossing 445 million dollars worldwide. It also won six Academy awards. The Forbes report attributed most of her earnings to La La Land.
The total amount of earnings of the 10 highest paid actresses stood at 172 million dollars, down 16 percent from 205 million dollars last year. Ranked at second was Jennifer Aniston, who made more money from commercials than from movies. Coming in No. 4 was Melissa McCarthy, who gained much popularity with her impersonation of former White House Press Secretary Sean Spicer on Saturday Night Live show.
The Forbes publishes the list of the world's highest-paid actresses every year based on data from market research firms such as Nielson and ComScore as well as interviews with industry officials.
Gi-Jae Han record@donga.com