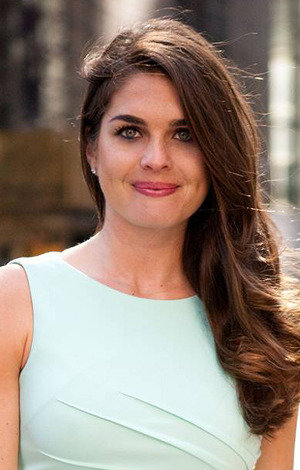 U.S. President Donald Trump appointed Hope Hicks as his new interim White House director of strategic communications on Wednesday. Though titled as an "interim," the administration says it will "make an announcement on a permanent communications director at the appropriate time." As the second highest ranking position after the Chief Secretary, the rank is equivalent to that of the Senior President Secretary for Public Affairs, or a vice-minister-class in Korea.
According to local media outlets, Hicks graduated Southern Methodist University in Texas in 2010, and worked at a PR consulting agency in New York until 2014. Her life changed dramatically when she became a confidante of President Trump's eldest daughter Ivanka Trump, and became her fashion publicist. She even volunteered to model for Ivanka's fashion brand, and still wears clothes and shoes from the fashion company owned by Ivanka.
After joining Trump's presidential camp in 2014, she became an advisor and chief secretary of communications. Hicks worked tirelessly, and even broke up with her boyfriend who she had dated for six years. Trump showed his strong confidence on Hicks, and lent her his apartment in New York. U.S. media outlets described her as "Trump's emotional support," "a souvenir from Trump Tower," and "the untouchable woman." Her college friends and colleagues praise her as "very loyal, flexible, amicable, and shows strong work ethics."
Since Feb. 20, Trump replaced his communications director five times for just six months. Former director Anthony Scaramucci held his position just 10 days, and others lasted for 45, 88, and 49 days, respectively. Still, many view that Hicks will be different. According to CNN, Hicks "is for Trump: First, last and always."
Sung-Ha Joo zsh75@donga.com