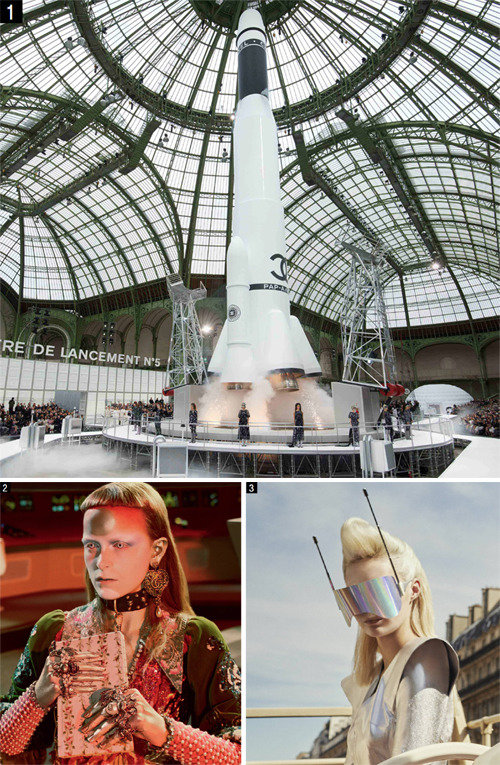 Luxury brands and fashion designers are turning to space as they seek breakthroughs in business. The so-called "retro-futurism" that had boomed in the space age in the 1960s has returned in 2017. Silver clothes that remind of spacesuits, silver shoes and mirror sunglasses are becoming a new trend.
The Chanel 2017 Fall/Winter fashion show that opened at Grand Palais in Paris in March was full of space-like atmosphere. Chanel's creative director Karl Lagerfeld installed a 37-meter massive rocket on the event hall and had models wear chiffon blouses with astronaut prints. "Let's follow astronaut sand take a space journey to the constellations," he said. As models wearing silver boots ended their finale walking, the rocket soared to the ceiling of Grand Palais. It was Chanel's space journey.
Early this month, the Moncler store at Bond Street in London displayed spacecraft and astronauts. They were holding an event to showcase "Moncler C" in collaboration with popular men's suit designer Craig Green. The glamorous feather-puffed padding resembled a spacesuit. It was smart strategy of Moncler, a luxury padding brand, as it stressed both thermal effect and futuristic image. Moncler also made a three-minute film where humans and aliens fight for a Moncler jacket.
Rei Kawakubo's Comme des Garçons also revealed this season's clothes and they were like moving pieces. The clothes made by silver plastic films were on stage under the topic "The Future of Silhouette." It was all about space as we can see mirror sunglasses with antennas at Louis Quartorze ad, aliens of Star Trek, robots and living creatures of the globe at Gucci's ad.
Why space? "Space has become a realistic place while in the past it had remained as just a dream," said Kan Ho-seop, professor of textile arts fashion design at Hongik University. "Space has become the next land of opportunity." Other analysts say such a trend is due to the increasing hostile world that people live in. Young people lacking money having wandered around old clothes shops at SOHO in New York, which eventually became a fashion trend. Jackets with big shoulders that resemble spacesuits and street fashion has affected the luxury industry.
The quest for space is not limited to the fashion industry. With space movies steadily being released, Mori Museum in Tokyo recently held an exhibition called "Space and Arts," which became a huge hit. The new headquarters of tech giant Apple opened in California four months ago is also shaped like a spacecraft.
With national security and environment at risk, the luxury of the future is not expensive bags but clean air. Our future is uncertain and full of desperation. Let's look forward to a new future.
Sun-Mi Kim kimsunmi@donga.com