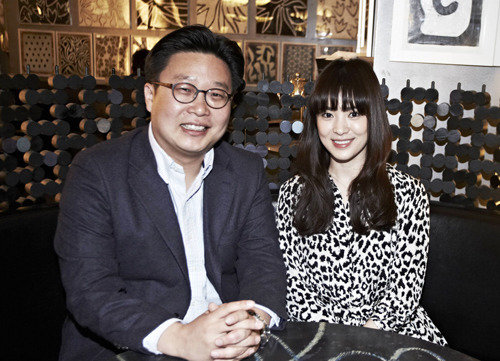 "I hope that a trivial act like this helps Korean tourists in Kyoto understand Korean history sites and also wish such a habit spreads across the globe."
Actress Song Hye-kyo praised Seo Kyung-deok, professor at Sungshin Woman's University, who has been promoting campaigns to help the world understand Korean history.
On Wednesday, the 72nd anniversary of the Liberation Day, 10,000 copies of a guidebook titled "Meet Korean History across the World: Kyoto" have been distributed in Kyoto. On March 1, this year, the anniversary of the March 1 Movement, the book's Tokyo part was distributed to Korean tourists in Tokyo.
The latest Kyoto book contains Danba Manganese Mine Memorial Center that has traces of forced Korean laborers in Danba, Japan, as well as Korea-related historical sites in Kyoto including poet Yoon Dong-ju's poem gravestone, Goryeo Art Museum and Nose Tomb. Introductions of these sites and ways to get to these places are included in the book. The guidebook is placed in 10 guest houses in Kyoto and Osaka where Korean tourists frequently stay. Professor Seo took charge of planning and production and actress Song funded all production costs.
Song already has been donating to the "House of Sharing," a rest place for elderly women who had been forced to sexual slavery during the Japanese colony rule. "I believe actors should speak out when they have to regardless of the Korean Wave," said actor Song Joong-ki. He recently announced that he's getting married with Song Hye-kyo and starred at the movie "The Battleship Island," a story of forced labor of Koreans in Japan.
Won-Mo Yu onemore@donga.com