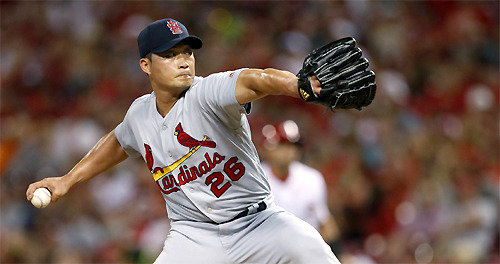 Can St. Louis Cardinals pitcher Oh Seung-hwan be on the mound this fall?
If his team qualifies for the post season, Oh will also have to play a huge role. Short-term games such as those in post season makes relief pitchers feel more pressured. Oh wasn't able to get on the mound last fall, his first big league season, but he already has proven his ability in the Korea-Japan league post season. When Oh debuted in Korea in 2005 and in 2011 as Samsung player, he became an MVP in Korean Series, and when he was playing for Hanshin in Japan he was also chosen MVP of central league Climax Series.
With his position being changed to right arm setup man, Oh has to enhance his ability against left arm hitters. This season, Oh had a run average of 0.359 against left hitters, much higher than the 0.212 against right hitters. "Since St. Louis' bull pen has good left hitters, Oh can be on mound depending on the hitters if he fails to show capability," said Song Jae-woo, commentator for MBC Sports Plus.
More important is for the team to qualify for the post season. A more realistic goal is to rank No. 1 in the central district by beating the Chicago Cubs as the St. Louis Cardinals is losing Colorado and Arizona by five games. If St. Louis qualifies for the division series with a wild card, there is high possibility that it will play against the Los Angeles Dodgers that currently ranks No. 1.
Hong-Gu Kang windup@donga.com