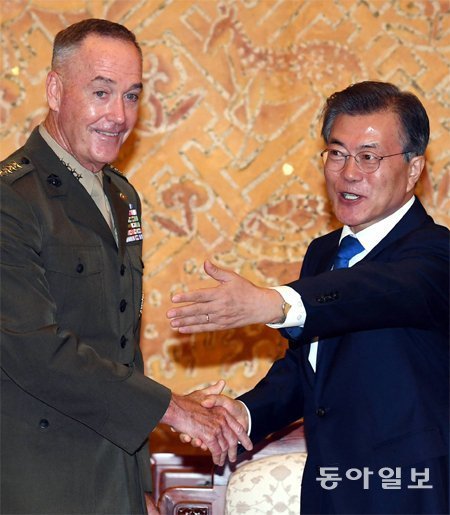 "The South Korean-U.S. alliance is an alliance aimed at keeping peace," President Moon Jae-in said on Monday. "I am confident that the U.S. will also respond cool-mindedly and responsibly to the current situation the way we (South Korea) do." As war of words between the U.S. and North Korea escalating the risk of a war including "fire and fury" and "full-blown war" have subsided, the South Korean leader urged Washington and Pyongyang to refrain from taking acts and speaking words that could rise military tension, while stressing peaceful resolution of the North Korean nuclear issue.
"We will keep peace and stability on the Korean Peninsula without fail," President Moon told his senior presidential secretaries on the day. Moon broke silence and made open statement on the situation surrounding North Korea's nuclear weapons and missiles seven days after having a phone call with U.S. President Donald Trump a week ago.
"Security situation around the Korean Peninsula is getting very grave due to successive provocations by the North," Moon said. "I urge North Korea to immediately stop making provocative actions and speaking threatening words, and not to aggravate the situation further." Moon's remarks are interpreted as his demand that the U.S. and North Korea take a cool-minded response to help ease military tension ahead of so-called "Super Week" that will become the watershed in the crisis situation on the Korean Peninsula. After Pyongyang announced that it will establish a plan to strike Guam in mid-August, U.S. President Trump stressed that U.S. military solutions are locked and loaded, and publicly stated that he will wait to see through August 15.
"If North Korea makes the right choice, we will dramatically develop inter-Korean exchange and cooperation and continue joint efforts to open a bright future for the Korean people," Moon said. He reiterated the theory of South Korea taking "the driver's seat" in issues over the Korean Peninsula through resumption of inter-Korean exchange, while urging Pyongyang to halt provocations.
"Peace on the Korean Peninsula does not come through force," Moon said, expressing his objection to response to the North's nuclear weapons with military options including preemptive strike. "The Republic of Korea's national interest is the top priority, and the best interest of the Republic of Korea is peace," Moon said. "The South Korea-U.S. alliance is an alliance aimed at keeping peace."
Clarifying that the precondition for South Korea-U.S. collaboration in addressing North Korea's nuclear weapons and missiles is peaceful resolution through dialogue, President Moon apparently sought to emphasize the "theory of negotiation," which has regained supporters in the U.S. Notably, watchers say President Moon's saying that "the U.S. will respond in cool-mindedly and responsibly" is his response to President Trump's warnings against Pyongyang, which have continued to intensify over time lately.
President Moon met with visiting U.S. Military Joint Chiefs of Staff Joseph Dunford Monday afternoon and discussed South Korea-U.S. joint defense preparedness meant to counter the North's additional provocations, and security situations on the Korean Peninsula. "The military supports diplomatic resolution (of North Korean nuclear weapons and missiles)," U.S. JCS Chief Dunford told President Moon. "If the president has to opt for a military action, you should back up this (military option) as commander who commands the military."
weappon@donga.comysh1005@donga.com