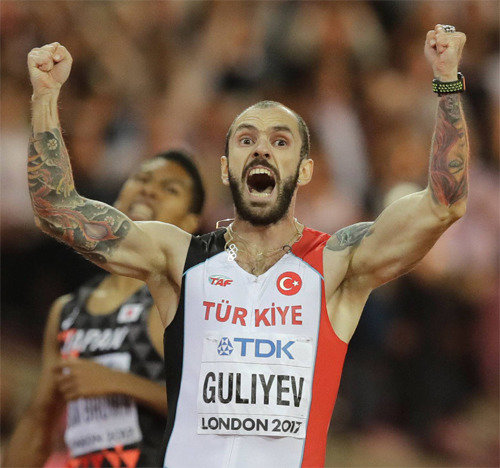 A new champion has emerged in the race wherein the king just retired. The sprinter in spotlight is Ramil Guliyev (27) of Turkey.
This happened in the final of men's 200-meter competition at the IAAF World Championships that took place at the Olympic Stadium in London on Friday. People's attention was heavily focusing on Wayde van Niekerk (25) of South Africa, the winner of the 400-meter race, and Isaac Makwala (31) of Botswana, who barely joined the final round after being banned from running in the event due to signs of norovirus infection.
However, Guliyev has become the winner of the gold medal in the first 200-meter race at the World Championship since the opening of the "Bolt era," as Usain Bolt (31) of Jamaica was absent due to retirement. It is the first time that no athlete from the U.S. and Jamaica has won a medal in the 200-meter race of an international championship since 2003.
Guliyev brought to Turkey the first medal in the 200-meter race of the World Championships by recording a time of 20:09. Van Niekerk was running ahead of others with about 30 meters left to the goal, but Guliyev overtook the former in the last-ditch spurt to cross the finish line first and 0.02 seconds faster.
The winner of the 100-meter, 200-meter, and 400-meter races in 2016, Van Niekerk challenged to sweep both the 200-meter and 400-meter races in the 2017 World Championships for the first time in 23 years since Michael Johnson (U.S.), but lacked stamina he needed to stay atop at the last moment. Van Niekerk only had to be satisfied with the silver medal by beating over Zerim Richard (23) of Trinidad and Tobago by a time difference of 0.001 second through video replay review.
Meanwhile, Makwala advanced to the final by posting a time of 20:20 in the qualifying round wherein he ran all alone amid rain on Thursday, but performed poorly in the final to rank sixth (time of 20:44). He had been banned due to symptoms of norovirus infection despite holding the record (19:77) in the 200-meter race this season. "The last 50 meters I was feeling tired," Makwala said, expressing regret. "I've had one of the craziest championship journeys ever."
Bo-Mi Im bom@donga.com