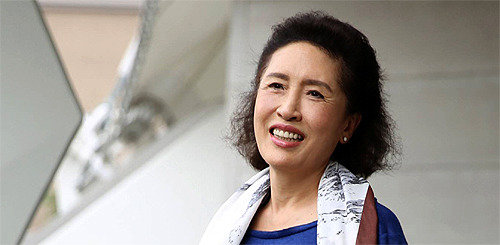 "I sometimes feel sad when I think now it may be my last chance to play this."
Her eyes welled up when she said the word "last." She is Chung Myung-wha, a 73-year-old cellist who is one of the top artists in Korea. "I think I did it enough," she said with a smile.
After her performance at the opening of the 2017 Pyeongchang Special Music & Art Festival" held on Thursday, she will head for the Dresden Music Festival in Germany. Despite her age, she is an active artist. It is very rare to find an active cellist who is over 70. Among them, only three cellists travel abroad for their performance.
"I'll quit only if I fail to meet my standards. When I played Schubert, I
thought in my mind, 'It may be my last chance to play Schubert,'" she said. "From four years, I have been thinking it is my last opportunity to play a piece."
As the art director since 2011, Chung has affection for the Pyeongchang Music Festival and the Gyechon Village Classical Music Street Festival to be held in Gyechon, Pyeongchang, on Aug. 18 through 20. The latter is a Korean version of El Sistema Orchestra, which tried to elicit social changes by teaching music to children in poor neighborhoods in Venezuela.
"While it has a different target from El Sistema, which is for poor children, they have in common in that the two pursue social changes through classical music," she said. "It is special to create harmony with an orchestra where every child in the village plays an instrument. I hope the Gyechon model can spread throughout Korea."
She said she has never regretted for choosing a cello. Had she majored in singing, she would have chosen mezzo soprano. She said cello is an instrument that best represents her voice.
"I have never regretted or missed about anything. Rather, I have been so blessed that I could have played music so far," the cellist said. "My job is to help young artists as I got so much. Otherwise, I would be punished (laugh)."
Dong-Wook Kim creating@donga.com