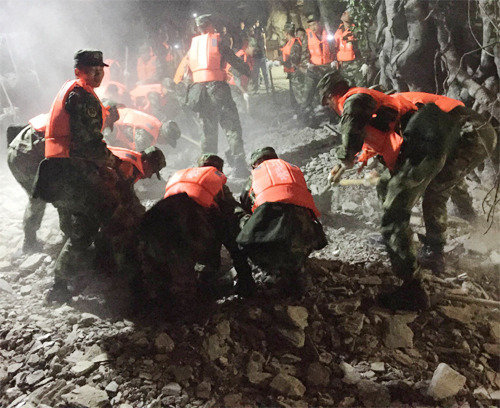 A strong earthquake hit Jiuzhaigou, a famous tourist site in China's south-western province of Sichuan around 9:19 p.m. on Tuesday, killing at least 13 people and leaving some 200 others injured. The death toll will likely rise further, as many people are buried under the rubbles and aftershocks continue. About 40,000 tourists were reportedly visiting Jiuzhaigou on the day of the quake. Two South Korean tourists also suffered light injuries.
The China Earthquake Networks Center measured the earthquake at magnitude-7.0. The tremor also shook buildings in other cities as far away as Xian, Shaanxi Province and Lanzhou, Gansu Province.

The Chinese authorities said that at least 13 people were killed, with 217 others injured as of Wednesday. Tourists who were visiting Jiuzhaigou on Tuesday were tallied at 38,799. As 31,500 tourists were evacuated from the affected area, there are concerns over the safety of the other tourists.
Local residents remained in fear, as an aftershock measured at magnitude 4.8 jolted the area again at 10:17 a.m. on Wednesday. The Chinese authorities warned that it is possible for another aftershock measuring at magnitude 6.0 to hit again. The South Korean consulate general in Chengdu said that 103 or 104 South Korean tourists were visiting the area either individually or in groups on the day of the earthquake. Two suffered minor injuries on a leg and a wrist, while the others were evacuated to Chengdu safely.
Although Chinese President Xi Jinping and Premier Li Keqiang ordered the government to make all-out efforts to rescue victims, many tourist buses flocked to escape Jiuzhaigou at once, causing a severe traffic jam that prevented rescue vehicles from entering the affected area. As some bus drivers drove on rescue vehicle-only lanes, the rescue vehicles could run at less than 5 kilometers per hour.
Wan-Jun Yun zeitung@donga.com