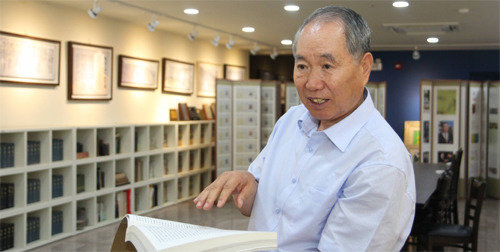 "I could realize the dreams that I had shared with poets Park Mok-wol and Hwang Geum-chan. I believe they would give me an encouraging pat on my shoulder?"
Chairman Kim Young-jin of publisher Sungsuwon looked out through the window for some time at an interview with a Dong-A Ilbo reporter Monday. Having debuted as a poet in 1965, Kim is a living witness in the Korean publishing circle as he was head of Korea Magazine Association and Korean Christian Publishers Association. He however said the reason he has lived until now is for the book he has published only recently. It is titled "The Song of Bible," a combination poems derived from 1,189 chapters of Bible that he has worked on for some 20 years.
Kim decided to make poems based on the Bible since the 1960s. Back then, the Korean Christian Literary Association participated by Park Mok-wol and Hwang Geum-chan was discussing on an idea to "make poems to praise God." However, it slowly progressed. Finally, Kim who had graduated Methodist Theological University embarked on this vast project in 1998.
"Almost every day, I arrived at work at 9 a.m. and stayed until 9 to 10 p.m. I had other many things to do but had no doubts that this was my destiny. It was a painful work that I had to suffer from ill health," Kim said. "My family tried to persuade me to stop. However, I had a sort of mission that I had to undertake, which was to realize an unprecedented thing unseen in the history of world Christian society."
Kim aims completing all five editions of "Song of Bible" by next year. "I hope to stay healthy until completion," Kim said. "It is a demanding schedule but I hope the work serves as an opportunity for evangelism.
Yang-Hwan Jung ray@donga.com