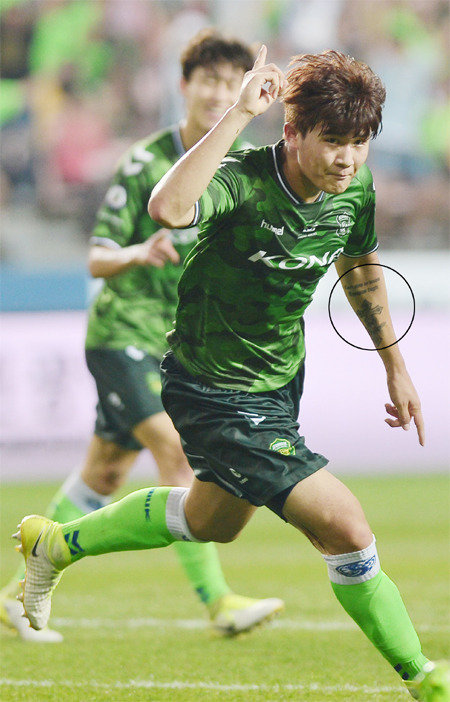 Up until high school years, Kim was not a soccer player overwhelmingly big in physique. He was tall measuring 188 centimeters, but weighed 78 kilograms, who was thin for a central defender engaging in physical struggle. After entering Yonsei University in 2015, he had to often engage in physical struggle with strikers who were seniors and older than him, to face limitations in performance. Having realized that he is inferior in physical power, he increased his weight and engaged in muscular training every evening for a year. He saw his weight increase to 88 kilograms and became muscular. As a result, he transformed into a player who efficiently controls the rival team's players in competition to secure flying ball from his sophomore year by banking on his strong physique. It was the time when Kim Min-jae (21) nicknamed "Monster Fullback" of Jeonbuk Hyundai in the K League Classic started gaining attention.
Around that time, Kim thought to himself that he needed to turn pro and increase his competitiveness as soon as possible. He inscribed tattoo reading "Never stop dreaming. Time flies" in his left arm. After all, he quit college and joined a National League team, and played for the business-affiliated team for six months, before joining Jeonbuk led by Coach Choi Kang-hee who had kept a close watch on his skills and performance.
Kim Min-jae also excels in buildup, a technique with which a player strong in physical struggle launches attacks through passes from the rear of the ground. "Kim Min-jae is a fullback who is armed with both Hong Myung-bo's foot skills and Choi Jin-cheol's man-on-man defense technique. He is a multi-function player who is big physically but agile in running," said KBSN soccer commentator Kim Dae-gil. "Chances are high that he will eventually grow to a big-name defender in Korean soccer." Kim Min-jae inherited physical strength from his father who was judoka in school years, and mother who was former athletic runner.
"I think I inherited physique from my father and speed from my mother," Kim said. Kim's parents, who are running a small sushi restaurant with only six tables in Tongyeong, South Gyeongsang Province, nurtured their son into an emerging soccer star despite their economic challenges. "I had strong aspiration to achieve success, as I saw my parents always work hard for me," Kim said.
Attention is also focusing on whether Kim Min-jae, an emerging star player in Jeonbuk, will make the roster of the national team, which will play the final qualifying games for the 2018 World Cup in Russia against Iran on August 31 and Uzbekistan on September 5). Under former coach Uli Stielike, the national team gave 10 goals in eight final qualifying games. Shin Tae-yong, who took over the leadership of Team Korea from Stielike, is agonizing over how to improve defense that is far from being stable. "I would be called in to join national teams of different age groups, or play exhibition matches, but I have never made the final roster," Kim said. "If I join the national team, I will stage do-or-die struggle for the national team as I've done for Jeonbuk."
Yun-Cheol Jeong trigger@donga.com