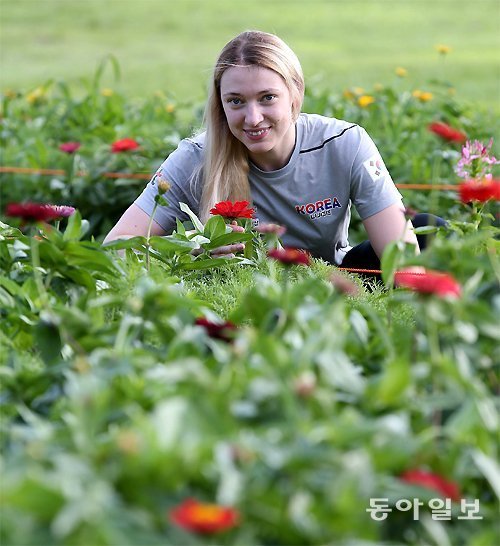 Aileen Frisch visited Seoul for the first time in her life to issue a passport in August last year when she was surprised to find severe heat. Such summer heat wave was something she had never experienced. Now in her second year in Korea, she has become more adapted. "I have adapted to Korean summer," Frishe said. "Especially in Pyeongchang, it is hot just one to two months and the remaining months are cool."
Frisch was naturalized as a Korean citizen last summer. She is spending her second summer in Korea, training at Pyeongchang with the Korean national luge team. Compared to a year earlier, she has improved her Korean skills. "She understands Korean perfectly when training," said Joo Se-ki, coach of the national lige team. "When I tell the team to gather at a specific time, she comes there at the right time." Frisch had studied Korean to understand Korean pop songs, even before being recommended to naturalize.
Frisch retired after being disqualified for a German national team in 2015, but on recommendation by Korean national team head coach Sartor Steffen she joined the Korean national luge team and is challenging the Olympics again. Her boyfriend, who is a member of the German national team, was skeptical at first on her changing nationality but is now Frisch's biggest supporter.
"Speed is luge's biggest charm," Frisch says. "One can lose by 0.001 second. There is no sports that counts less than a second." When asked whether she also pursues perfectionism in normal life, Frisch said, "Yes, unfortunately." This is the same with learning Korean. "It takes long time for me to do things because I want to do them perfectly," she said. "But I like to learn. I think I will have to learn Korea for the rest of my life. Despite that, I'm trying to be accustomed to not being too perfect."
Bo-Mi Im bom@donga.com