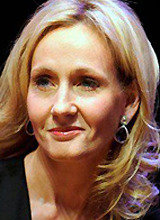 Joan K. Rowling has become te world's top earning writer for the past year due to success of "Harry Potter and the Cursed Child," which the British writer has published last year after a nine-year hiatus.
According to the list of the highest-earning writers tallied by the U.S. economic magazine Forbes on Sunday, Rowling is found to have earned 95 million U.S. dollars from June 1, 2016 to May 31, 2017. She effectively earned 180 dollars on average per minute. Rowing ranked third in last year's tally by posting 19 million dollars.
Rowing made a splash in the publishing, movie and play markets once again by publishing in July last year "Harry Potter and the Cursed Child," a story about Harry Potter as a 37-year-old man with three children. James Patterson, the master of thriller novels who had remained the unrivaled No.nd this year.
Sung-Ha Joo zsh75@donga.com