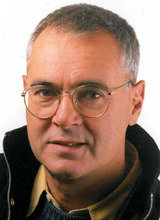 It was belatedly made public that the last e-mail sent from the late German journalist Jürgen Hinzpeter was about the restoration of the clock tower in front of the South Jeolla Provincial Office. Hinzpeter was the first foreign correspondent who heralded the May massacre in 1980, and was the real character in the recent film "Taxi Driver."
On Sunday, Gwangju City officials released the last e-mail sent by Hinzpeter on Jan. 12, 2015 which mentioned his strong hopes of "restoring the clock tower in front of the former South Jeolla Provincial Office," where around 30 people were shot to death by martial law army on the night of May 21, 1980. Indeed, the "blue-eyed witness" Hinzpeter was concerned about another witness, the "clock tower."
When active as a correspondent for the German public TV ARD-NDR in Japan, Hinzpeter filmed the uprising in Gwangju twice. The clips that depicted the horrors of military suppression in Gwangju were first known to the world thanks to his clip, which was aired by ARD-NDR on May 22, 1980.
Hinzpeter died in January last year. Upon Hinzpeter's several requests, the May 18 Memorial Foundation searched for taxi driver Kim Sa-bok who drove the German journalist from Seoul to Gwangju on May 18, but announced his whereabouts were still unknown. "If Mr. Kim is alive, we would like to ask him to step forward and testify the massacre in his own words," said Kim Yang-rae, executive director of the foundation.
Hyeong-Ju Lee peneye09@donga.com