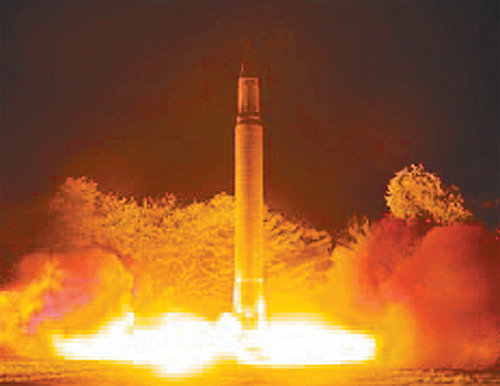 North Korean leader Kim Jong Un's appearances at launch sites of various missiles since last year is no longer new now. He has been seen moving around the dangerous launch site of a missile with tobacco in his mouth on July 4, and witnessing in person the ICBM-class Hwasong 14 missile blast off into the sky near the village of Mupyong-ri, Jakang Province late night on July 28.
Highly carefully orchestrated image-focused politics, in which Kim Jong Un is depicted as the host who takes control of all different situations, was something that was unimaginable during his father Kim Jong Il era. At that time, Kim Jong Il was rarely seen in photos, and just a couple of such photos, if any, were publicized long after an incident. Kim Jong Un's practice of appearing with missiles in which dozens of field photos are publicized soon after missile launches, followed by publicizing of video clips is a psychological warfare, which demonstrates the magnitude of his power to its citizens and to increase the sense of fear in the international community.
Kim Jong Un only appears in photos and videos of successful missile launches. He displays acts that only the host of events can perform, including wearing of white attires to draw attention, or hugging and inspection. Such images illustrate that missile launches are not merely military training but events that are meant to verify and solidify his power through the mass media. Also, he does not war the pins with the portrait of his grandfather, North Korea's founder Kim Il Sung, or his father, Kim Jong Il. Such acts reveal his intention to ensure that successful missile launches are recognized as achievements he has creates by himself.
After assuming power, Kim Jong Un has been exerting efforts to position himself as a figure different from his father. With such acts, he would be misunderstood by outsiders as being similar to his grandfather Kim Il Sung. However, Kim Jong Un wished to take his own path. He showcased buildings newly constructed particularly in Pyongyang, and storages filled with frozen fish to capacity. When he faced limitations with food and housing that he could show off to citizens, he started focusing his energy on missile launch events. Pyongyang is holding high profile missile events because Kim Jong Un seeks to show North Koreans that the power he inherited is justified.
Yeong-Wook Byeon cut@donga.com