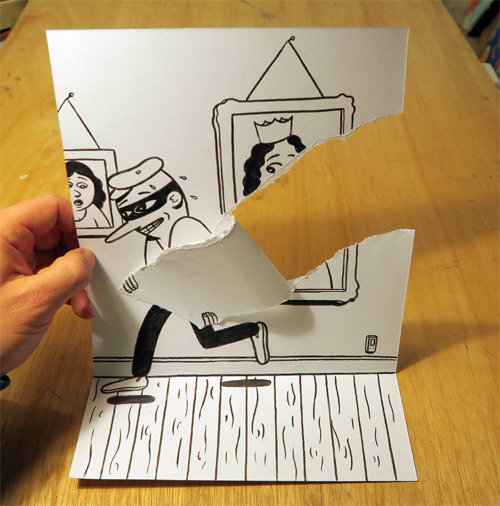 On the white paper on a table is drawn a struggling man who is yanking a fishing pole. The tip of the paper is physically hooked open by the drawing of a fishing pole, and behind it is a drawing of fish. At a glimpse, this might strike you as just playful, but a closer look reveals a genuine flair of creativity employing the elasticity of paper. It is more than doodles; it is a three-dimensional image.
A Danish artist named Huskmitnavn (42) has complied his works of such characteristics to publish his new book Paper Human (Book Recipe). In an email interview with the Dong-A Ilbo, he said, "I pursue playful arts. I am expecting that my drawing images will be an inspiration for people so that someone will think of an entirely original drawing method out of my works."
The name of the author who refuses to reveal his real name is a Danish phrase meaning "remember my name." Growing up near Copenhagen, he has been using his alias since he started to work as a creator with building murals and posters after graduation.
"My posters were almost immediately removed the next morning. So, I jotted down a message "This one will also be gone tomorrow. Remember my name" on the side of my posters. Then, people thought that "remember my name" was the name of the artist. It was fun and flattering, so I took it as my nickname."
His final work is a series of rapidly taken photos of "situations" formulated by crumpling, folding, and tearing a sheet of A4 paper. A picture of an iron is actually ironing out crumpled papers, and the paper is torn and erected up to form choppy waters where a man is surfing, but the images exist the way they were intended only for several seconds.
"My works are valuable because they vanish. They can be likened to entomologists' observation pictures," says Huskmitnavn, "The works that I've shown on the book are only one of many types of works that I do. I do canvas, murals, and other various design works, but I try to keep my drawing style consistent. I am happy that the images I've found through observing the world are finding new shapes through a tool that is me."
Taek Kyoon Sohn sohn@donga.com