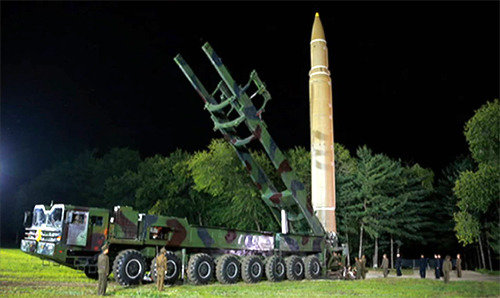 Kim Jong Un, chairman of the Workers' Party of North Korea, has caught South Korea, the U.S. and the international community off guard perfectly by taking the roles of script writer, director and leading actor in order to maximize the threat of the second flight test of ICBM (Intercontinental Ballistic Missile) Hwasong-14.
The South Korean military authorities announced Thursday that there was no imminent sign of provocation, assuming that Kim Jong Un would choose another day, however, Kim already gave an approval in his own writing of the flight test of Hwasong-14 scheduled for Friday night. He paid a visit to the cemetery but after all it turned out to be his tactics of deception with an aim for a surprise attack. "Kim Jong Un's meticulous plan for the second test of ICBM is seen every corner," the military official said.
Following the first test on July 4, the second flight test of ICBM reveals Kim's message of a nuclear attack on the mainland of the U.S. The time North Korea fired Hwasong-14 (11:41 p.m. on Friday in Korea Time) is the time when a day begins in Washington D.C. on Friday morning. "They chose the morning of Friday to give a maximum shock to the Americans," reckoned Kim Yong-hyun, professor of North Korea studies at Dongguk University.
North Korea frequently employed strong and mild strategies in the past as it exercised brinkmanship tactics, followed by an appeasement gesture including proposing a dialogue, but this time, the probability is low for Pyongyang to suggest a conversation within a short period of time.
"During the Kim Jong Il regime, there was an advisor whom we could discuss and consult important military agenda. But I heard that such a consultation system has completely collapsed," a high ranking official of the government said. "Unless this system changes, Kim Jong Un would inevitably make a misjudgement as he fails to discern the mood of the international community. It is highly likely that the 'hard-lined' provocation will continue for the time being."
ysh1005@donga.com· · hjson@donga.com