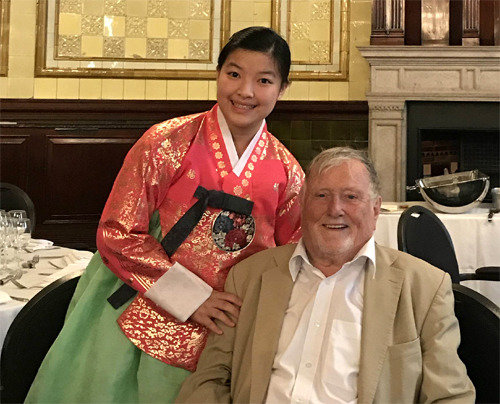 Special guests paid their visit to an annual Korean War Cease Ceremony held in front of the monument located at Victory Garden, near the Ministry of Defence, London on July 27. They were the "Thank You from Korea Youth Delegates" dressed neatly in Korean traditional clothes, reciting the poem to express their gratitude to Briton combatants who fought for the Korea War.
Around 87,000 British soldiers entered the Korean War. Among them, the most widely known was only 67 soldiers of the British Glochestershire Regiment who stood against approximately 42,000 Communist Chinese army, or three divisions, at Paju, Gyeonggi Province in 1952. Thanks to their efforts withholding the Chinese troops at the Seolmari Battle, Seoul was secure from Communist attacks.
Maj. Thomas Ken Hardy who at that time served as a medic at the Regiment greeted the second middle schooler Min Young-son with joy. When Min was a fifth grader, she won a award at the 2013 competition sending letters of gratitude to the British veterans and met BBC presenter John Hardy, the son of Maj. Hardy who came to Korea to film a documentary tracing back his father's service in 2014.
At that time, Min thanked Maj. Hardy and gave his son the letter that said, "History and Koreans will always remember you and the courageous Britons for their fight for freedom to Koreans." Maj. Hardy shed tears when he saw Min recite her letter on a streamed video, which was also aired in England via BBC.
Maj. Hardy hugged Min and expressed his pleasant surprise after meeting her for the first time in London after three years, saying that, "I was very surprised to see that children also thanked for our services. She was only a little girl three years ago, and now she's become a lady." Min sang the famous British rock band Beatles "Imagine" as well.
"I wanted to console the hearts of veterans with a song dreaming of a peaceful world without terror or war," said Min. "Though my parents and I never experienced war, it was a precious moment for me to thank again the veterans who sacrificed their lives for Korea."
Jung-Min Dong ditto@donga.com