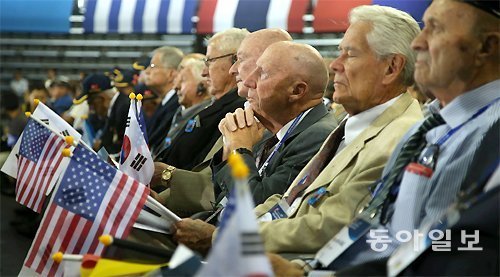 Marking the 64th anniversary of the singing of the armistice treaty of the Korean War, the U.S. administration and Congress have reaffirmed their will to deter North Korea's nuclear and missile programs. On Wednesday, CNN reported that while Pyongyang did not conduct a mid-and long-ranged ballistic missile test on Thursday, the communist regime pressed ahead with a missile ejection test on Tuesday.
U.S. President Donald Trump issued a statement on the website of the White House and declared July 27 to be the "National Korean War Veterans Armistice Day." "The Korean War has often been labeled as the 'Forgotten War,' despite its having claimed the lives of more than 36,000 Americans," said President Trump in the statement. "We will never forget our Korean War veterans whose valiant efforts halted the spread of Communism." He also added that North Korea's ballistic and nuclear weapons programs continue to pose grave threats to the United States and allies, saying, "These troops, and the rest of our Armed Forces, help me fulfill my unwavering commitment as President to protecting Americans at home and to steadfastly defending our allies abroad."
The New York Times reported on Thursday that the U.S. Senate will pass a package of bills as early as within this week on North Korea, Russia, and Iran sanctions with a set of strong measures such as banning the imports of crude oil.
After a meeting with House Majority Leader Kevin McCarthy, Senator Bob Corker, the Republican chairman of the U.S. Senate Foreign Relations Committee, said they reached an agreement to hand over the bill to the president. The bill was passed Wednesday local time with an overwhelming support in the House of Representatives with 419 ayes and 3 nays. Should the bill pass the Senate and be legislated after being signed by the president, this will allow the U.S. government a strong legal means to pressure North Korea.
Pentagon spokesperson Jeff Davison said that the North's missile and nuclear programs are "not tied to a calendar," adding that the regime is "aggressively pushing ahead with test launches wherever and whenever it can." The latest ejection test by Pyongyang, which was conducted in Sinpo South Shipyard, Hamkyong Province, is designed to test the missile's "cold-launch system," a core SLBM technology using high pressure steam to propel a missile out of the waters before its engines ignite. The CNN added that it was Pyongyang's third test this year and the second this month.
call@donga.com · wizi@donga.com