U.S. President Donald Trump said on Tuesday that Apple has promised to build three big production plants in the U.S. After promoting "Made in America" policy, Trump has finally changed the iPhone-maker's "Made in China" strategy, which helped the company to continue its successful expansion.
"I spoke to [Mr. Cook], he's promised me three big plants — big, big, big," Trump said during a 45-minute interview with the Wall Street Journal on Tuesday.
Trump was not afraid to share his conversation with Apple Chief Executive Tim Cook and the fact that he pushed Cook to change his stance. Trump told the journal, "I said, 'You know, Tim, unless you start building your plants in this country, I won't consider my administration an economic success. He called me, and he said they are going forward.'" Trump has not mentioned anything about location or schedule as to construction of Apple's new factories. CNN reported Apple did not respond to a request for the company's comment.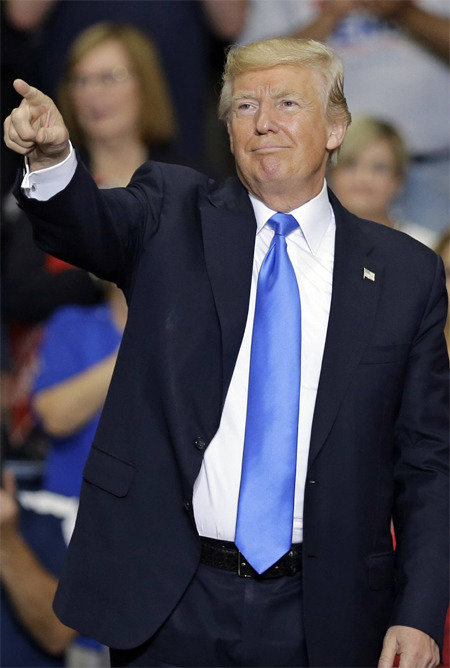 Trump has consistently blamed Apple since his presidential campaign days for manufacturing iPhones in China and pledged to return iPhone factories to the U.S. Apple is currently producing only displays and some components in the U.S. In the meantime, Apple sources components in Asia and is running assembly and manufacturing lines through China's cheap labors to produce more than two million products annually.
Apple has been criticized since the inception of the Trump administration that calls for stricter regulations on immigration and a revival of the U.S. manufacturing sector. The House of Representatives said Apple spent 2.2 million dollars on lobbying the Trump administration between April and June this year, which reportedly doubles 1.12 million dollars that Apple spent for the same three months a year ago. In addition, Cook has also been committed since early 2017 to creating a fund worth 1 billion dollars for advance of the U.S. manufacturing sector.
Whenever Apple was attacked for not returning to the U.S. from China, the company has defended itself saying that it directly employed 80,000 U.S. workers and added as many as two million jobs through parts companies and developers. Unfortunately, it was not enough to satisfy Trump's appetite.
Trump's corporate tax cuts would contribute 240 billion dollars to Apple's cash. However, a huge production boost in the U.S. by Apple could lead to unavoidable side effects. Apple has tapped into cheap labors in China and implemented "Made in China, designed by California" policy, which helped Apple to record 38 percent of surprising margins. However, Apple has to revise its strategy now.
"Apple's return to the U.S. will make Apple less competitive to its rival Samsung Electronics," said Jason Dedrick, a professor at Syracuse University's School of Information Studies. In other words, the price of iPhone could increase by 80 dollars at maximum. "Trump's policy to create jobs on the assembly line could result in a loss of high-paying engineering jobs," the professor said.
Yong Park parky@donga.com