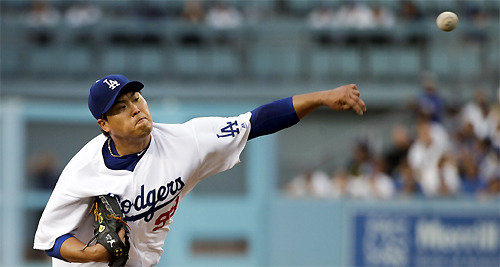 Los Angeles Dodgers pitcher Ryu Hyun-jin of the U.S. Major League Baseball helped his team win a game against the Minnesota Twins even without his team's ace Clayton Kershaw on Monday local time.
A lot was at stake in the game for both the Dodgers and Ryu. It was the first game for the Dodgers to play after losing ace Kershaw. It is uncertain when Kershaw will be able to take the mound due to his waist pain. It was the first game for Ryu to play since making the disabled on June 28. For Ryu, who has been competing with Kenta Maeda to become the starting pitcher since the early days of this season, now is an opportunity to emerge as a hero for his team facing difficulties as both Kershaw and Brandon McCarthy have vacated the mound due to injuries.
In his first game in the second half of this season and his comeback game, Ryu displayed moderate pitching performance by giving two runs in five innings to pave the way for his team's win. Notably, he performed impeccable pitching through the third inning. Ryu had four strikeouts without giving a single walk through the third inning to overwhelm Minnesota batters by banking on both control and power of his pitches.
Ryu threw only 79 pitches on the day, but team manager Dave Roberts did not care it much, saying, "Ryu threw 60 pitches in two exercise pitching sessions. We also needed a substitute batter right at the time." Ryu has pitched five innings or more in four consecutive games through Monday, and is successfully playing his role as a starting pitcher. Moreover, with Kershaw and McCarthy having exited from the race to become the starting pitcher due to injuries, Ryu's performance in the second half has become all the more important for the Dodgers to maintain its dominant lead.
Bo-Mi Im bom@donga.com