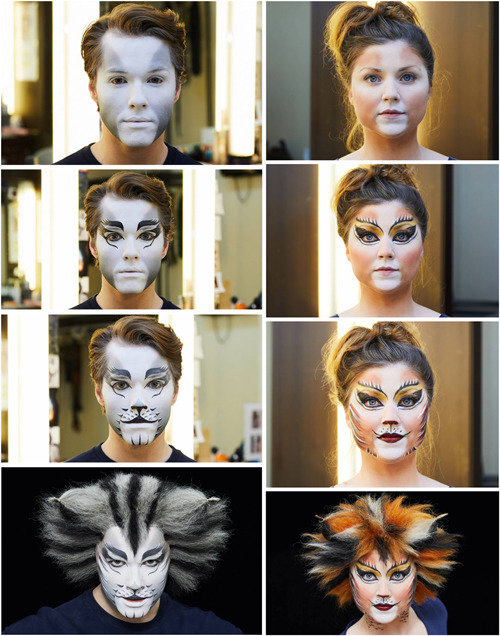 The highlight of Cats the Musical is the realistic cat-like makeup of 36 members of the cast. It is a longtime tradition that actors and actresses put on makeup by themselves without help of makeup artists since its first performance in the West End in 1981. Adam Bailey (28) and Ashleigh Hauschild (26), the male and female lead characters starred as Munkustrap and Demeter of the Cats original team, explained how they apply their makeup to be cats. The original cast is now having a performance here in Korea.
I'm Munkustrap, the leader cat. The main point of my makeup is to be charismatic. Thick eyebrows and multiple black lines spreading all over my face make me gorgeous. Basically, I use three main colors—black, grey, and white—and they are all achromatic colors. I use German color cosmetics and particularly prefer to wear 5 cream stick foundations.
First, spread the white cream foundation over my face with a sponge. Then, apply black and grey ones from beneath the chin to the middle of the cheek and from above the eyebrow bones to the forehead by using a tapping motion. This is important! Spread the white powder all over the face as the powder has the waterproof function so that the makeup is not removed by sweat and it is sort of the sweat-proof makeup.
Next, I'll draw lines to make me look like a real cat. Draw lines above eyebrows and around eyes like spreading wings with black and white cream shadows by using a brush. Draw whiskers at the tip of nose and around the mouth to be a perfect cat. When the makeup is complete, put on a Yak hair wig. In final, I change costumes that cling to my body and is made of flexible materials. Transformation success! Now, I am the cat, Munkustrap.
Hi, I'm Demeter, splendor cat. I usually use cream stick foundation of seven colors as a base makeup. Main colors are brown and white. After putting on cream foundation of the two colors as the base makeup and spread the white powder all over my face for sweat-proof (as you know it). Can't miss chroma. So, I add up red brown, gold, black shadows. The makeup point of Demeter is the splendid eye makeup and to draw lines in a way that nose and mouth are over-projected. Of course, I put on much pearl eye shadow to be look fancy. Draw whiskers on both cheeks by using white, red, brown, and black cream foundations. It made me like a hairy cat.
The point of nose makeup is nostril lines! Lightly add black color beneath nose by circling them. If the nose line is inclined even 1 centimeter, it becomes the "dog" face, not the cat face. After finishing up the nose makeup, wear a red lipstick. Then, apply 1.8-centimeter fake eyelashes to complete the makeup. I sometime make mistakes while putting on makeup. Then, remove them with a cotton swab by moistening with saliva. I believe that all women in the world do so. It takes 40 minutes exactly to finish the makeup.
Jeong-Eun Kim kimje@donga.com