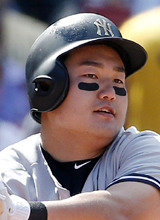 Life in the U.S. Major League Baseball is cold-blooded. South Korean first baseman Choi Ji-man, who was holding on to his hard-earned opportunity, has fallen victim to a major trade by his team, the New York Yankees.

The Yankees said on Thursday that it had designated Choi for assignment by the New York Yankees ahead of a match against the Chicago White Sox – a procedure of removing a player from the 40-man roster eligible for a Major League contract. Infielder Rob Refsnyder has also been designated for assignment by the Yankees.

To Choi, it seemed that he fell victim to a three-to-four trade between the two teams a day earlier. Through the deal, the Yankees acquired Todd Frazier, a slugger who hit 40 home runs last year, and bull pen pitchers David Robertson and Tommy Kahnle. Choi and Refsnyder were designated for assignment to make room for them.

Choi, who singed a minor league contract with the Yankees early this year, was promoted to the Major League on July 6. Since his Big League debut, Choi left a strong impression by hitting home runs in two consecutive games. He hit .267 with two homers, five runs batted in and 1.067 on-base plus slugging (OPS). 

Ranking third in the American League East, the Yankees wanted a more powerful hitter for the later part of this season. Frazier has hit 16 home runs so far this year. The Yankees also acquired Triple-A first baseman Garrett Cooper from the Milwaukee Brewers.
If there is no other team that wants Choi for the next 10 days, the Yankees can send him to the Minor League. "I have no choice but to wait," Choi said. "I believe I will have another chance."
Heon-Jae Lee uni@donga.com