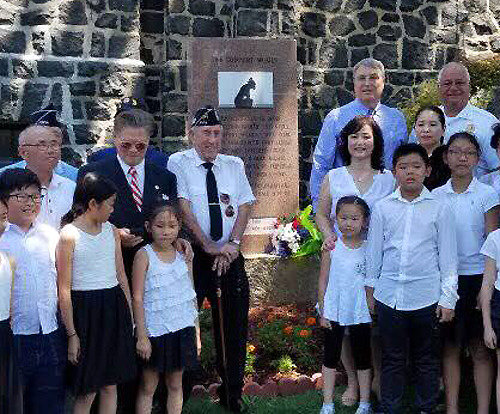 Another monument was erected in Bergen County, New Jersey in the U.S. to commemorate Korean comfort women sexually exploited by the Japanese military during the Pacific War. The new monument comes as the fourth in New Jersey and the eight in the U.S.
Held by the local Bergen County Korean community in front of Trinity Episcopal Church near Cliffside Park on Wednesday (local time), the ceremony was attended by Chairwoman Kim Jin-sook and the members of the Korean community, along with Bergen County Police Commissioner Michael Saudino, and around 50 veterans of the Korean War.
As Hudson Youth Choir members sang "Spring of Home" and "Arirang," the ceremony touched the broken hearts of comfort women survivors who were enslaved overseas and had to undergo severe pain without knowing when they would return to Korea.
The marble tablet was engraved with the words "The Comfort Women" and an image portraying a crouching girl covering her face with both hands. In addition, the monument heralded the importance of not forgetting the pain and tragedy of more than 200,000 women and girls kidnapped by the Japanese military for "sexual slavery" from 1930 to 1945.
Yong Park parky@donga.com