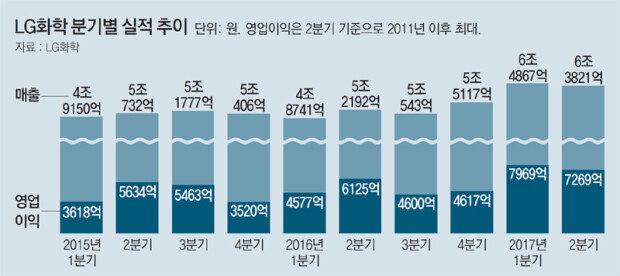 LG Chem has reported its strongest earnings performance on a half-yearly basis, posting sales of 11.46 billion U.S. dollars for the first half of 2017. This is the first time that the Korean chemical company turned in half-yearly sales over 10.68 billion dollars. The company's operating profits amounted to 1.36 billion dollars over the same period, recording its highest half-yearly operating profits after 1.43 billion dollars in the first half of 2011.
LG Chem plans to increase sales from its high value-added product line-ups in the basic materials and chemicals division, aiming at sales growth to 6.231 billion dollars by 2020 from 2.67 billion dollars in 2016. "The company has set a clear approach going forward to make more aggressive investment in expansion of production plants for high value-added products for the next two to three years," LG Chem CFO and President Chung Ho-young said during the earnings conference call.
LG Chem's second-quarterly earnings improved across all business divisions including IT&E materials, life sciences and its subsidiary Farm Hannong. LG Chem's life sciences division, which took off after a merge deal with LG Life Sciences in January, posted operating profits of 16.8 million dollars on top of sales of 120 million dollars. In addition, sales and operating profits jumped by 3.6 percent and 78.3 percent, respectively, from a year ago on the back of growth of primary strategic products such as its new drug Zemiglo for diabetes.
"LG Chem is capable of continuing a strong earning streak in the third quarter through efforts to improve sales increase and profit margins in each business division," Chung said.
Saem-Mool Lee evey@donga.com