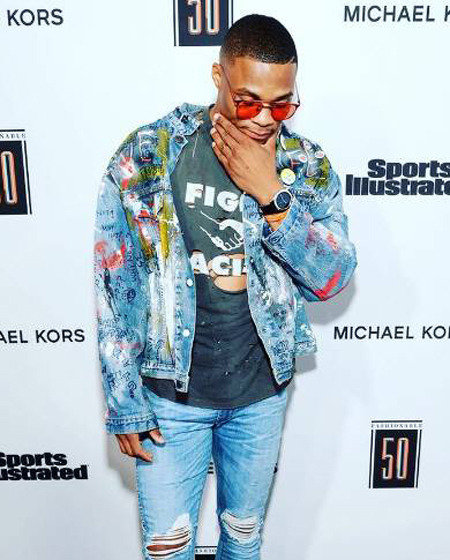 He gathers a crowd where ever he goes, either to court or to SOHO, the fashion street in New York.
This is Oklahoma City Thunder star Russell Westbrook, who ranked No. 1 in the "50 Most Fashionable Athletes" by Sports Illustrated, an American sports media franchise owned by Time. Having been ranked as MVP of 2016-2017 NBA, Westbrook has now become a fashion MVP.
While in New York for visiting games, Westbrook has always been surrounded by a vast crowd in Manhattan streets. A huge man weighing 90 kilograms and 190 centimters high, Westbrook has garnered attention when he was shopping clothes, and pictures of him trying them on were photographed by paparazzis and fans and then spread on the Internet.
"Why not." These are the words Westbrook uses like a mantra while playing, talking and wearing clothes. He also said the words when he was wearing an orange color silicon bracelet, and when he became an MVP by recording a triple double 42 times. He established a charity group whose name is also "Why not." When he posts himself dressed up on Instagram, he always posts the message "#Why not."
"It doesn't matter what people say. What is important is to be thyself," he said. "This is true in all corners of life and not only in fashion."
This represents his fashion and performance. His unique taste is not praised by all fashion critics, but his NBA colleagues give him thumbs up, since it is consistent with Westbrook's entirely different game performance. "Westbooks always charges on with a 100 percent power. His fashion reflects this," said Andre Iguodala who was also listed on the 50 Most Fashionable Athletes list. "I'm a fan of him both in terms of fashion and player."
Bo-Mi Im bom@donga.com