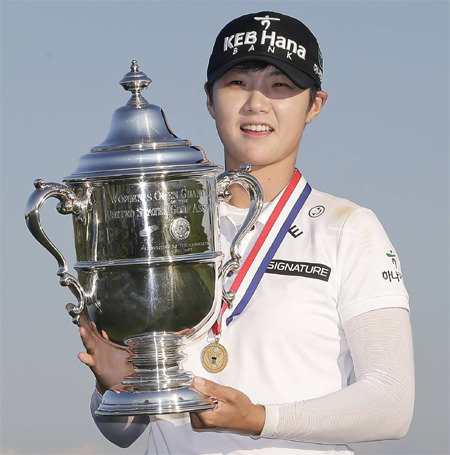 Park Sung-hyun has won the U.S. Women's Open as her first victory at the U.S. LPGA Tour.

Park was in a joint lead with Choi Hye-jin and Feng Shanshan from China through the 14th hole, when in the 15th hole she put the ball into the hole with birdie putting in a seven-meter distance to widen the gap. U.S. President Donald Trump stood up to applaud when Park made the performance. At the 17th hole, Park put her second shot to 1.5 meters near the hole with a birdie, and in the 18th hole she made a par save that determined her victory. When Park was heading to submit the scorecard, President Trump had his thumbs up on her. Trump's daughter Ivanka Trump also posted a message on her Instagram account saying, " Congratulations Sung Hyun Park on becoming the 2017 US Women's Open champion! ⛳ I am inspired by your talent and tenacity!"

After hugging her mother on the green right after her victory and bursting into tears, Park at the press conference said, "I can't believe I did this. It seems like floating on the cloud," adding "Today's victory owes to last year's experience." Last year at the same event, Park contested at the final day but as her second shot at the 18th hole fell into the water hazard, she failed to go on into the extra time.

The leaderboard was full of Korean national flags. Park won and Choi was the second runner, followed by world No. 1 ranking Ryu So-yeon and Hur Mi-jung who came in at joint third. Lee Jeong-eun was ranked at joint fifth, and Kim Se-youg, Lee Mi-rim and Yang Hee-young were placed at the joint eighth. Eight among the top 10 were Koreans.
Heon-Jae Lee uni@donga.com