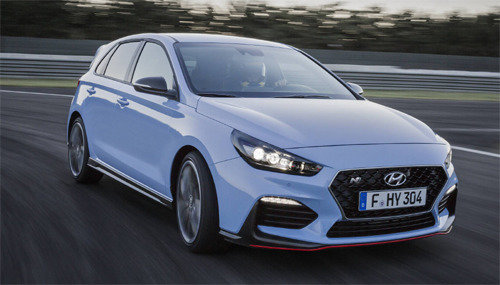 Hyundai Motor has unveiled the i30N, the first model of Hyundai's N high-performance brand, and the i30 Fastback, a sports car version of the i30.
Hyundai Motor showcased its two latest cars to about 400 media associates at the Areal Bohler event hall in Dusseldorf, Germany on Thursday. At the Frankfurt Motor Show in 2015, the Korean automaker had announced its plan to develop the N brand for everyday high-performance driving.
The i30N is equipped with a 2.0 gasoline turbo engine, generating the maximum output of 275 horsepower and the maximum torque of 36.0kgf·m. Five driving modes are available including N mode and N custom mode. The i30 Fastback is a sports car version of the existing i30. In contrast to an ordinary compact car with three doors, the i30 Fastback features 5-door, coupe body. Unlike the regular i30, it sits 5mm lower to the ground and the suspension has been reinforced by 15 percent.
During the event, Hyundai announced that it plans to complete the i30 Family line-up by adding the i30 Wagon, the i30N and the i30 Fastback to the i30. The company also announced that it will take a leap forward to become the biggest Asian automaker in Europe by 2021. The i30N and the i30 Fastback are expected to hit the European market at the end of 2017.
Do-Young Kwak now@donga.com