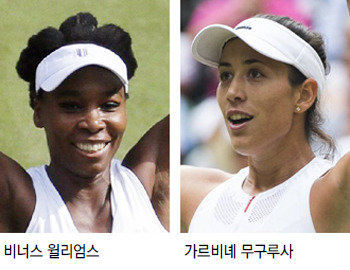 Venus Williams (37) of the U.S., who is ranked 11th in the world, will have a showdown with Garbine Muguruza (24) of Spain, who is ranked 15th, in the female's single competition of the Wimbledon Championships on Sunday.
Williams beat seventh-ranked Joanna Konta (26) of the U.K. 2-1 (6-4, 6-2) in the semifinals of the women's single that took place at All England Club in Wimbledon, the U.K. on Thursday (local time). In an earlier game, Muguruza easily crushed 87th-ranked Magdalena Rybarikova (29) of Slovakia 2-0 (6-1, 6-1) to advance to the final.
Williams has won the Wimbledon five times since 2000. She will vie for the championship anew in nine years. Muguruza won the runner-up prize at the 2015 event of the championships, seeking to win the title in two years. Williams is leading Muguruza 3-1 overall in previous games.
The current record of oldest age at which an athlete won the Wimbledon championships in the women's single competition was 34 years and 10 months, and the record for a major title is 35 years and four months at the Australia Open. Serena Williams, the younger sister of Venus Williams, holds both records. If Venus Williams clinches the Wimbledon trophy this time, she will set a new record by winning the title at the age of 37 years and one month.
Sang-Hoon Kim corekim@donga.com