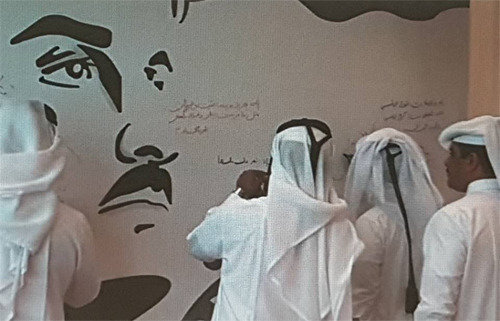 Qatari people are engaging in patriotic campaigns, while the nation is diplomatically isolated after Saudi Arabia, Egypt, the United Arab Emirates and Bahrain severed their relations with Qatar. The surge of patriotism in Qatar reminds of Korea in 1997 when people voluntarily donated gold after Korea was bailed out by the International Monetary Fund.
In Qatar, people started to leave a short message next to a poster with a black-and-white sketch of the emir of Qatar, Tamim bin Hamad Al Thani, to show their patriotic spirit and loyalty to the nation. The sketch was drawn by a young Qatari artist after neighbors severed diplomatic links to Qatar, and it has become a symbol of patriotism.
With soaring popularity of the sketch of the emir, few public agencies have put a large-size sketch on walls and let the public write a message on it. The campaign spread nationwide and became an iconic movement. So far, about 20 sketches have been displayed publicly. "The number of participants has not been counted yet, but we estimate that everyone participated. The total population in Qatar is about 300,000," the Korean Embassy in Qatar said. "We are seeing more and more foreign residents in Qatar participating in the campaign."
U.S. Secretary of State Rex Tillerson met with Qatari Foreign Minister Mohammed bin Abdulrahman al-Thani in Doha, Qatar on Tuesday and signed a memorandum outlining anti-terrorism efforts to cut funding to terrorists. In other words, the U.S. is trying to arbitrate issues between Qatar and neighboring nations by addressing suspicions over Qatar's support for terrorists. However, Saudi Arabia and three other Arabic countries released a joint statement after a press briefing by Tillerson and said that they would maintain sanctions implemented on Qatar as the memorandum between the U.S. and Qatar was insufficient.
Se-Hyung Lee turtle@donga.com