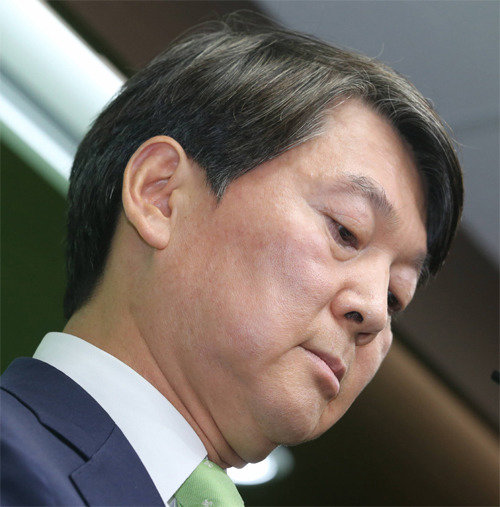 Ahn Cheol-soo, the former presidential candidate of the minor opposition People's Party, apologized Wednesday over a fake tip-off scandal, saying that he would "have a period of deep self-reflection." The apology came 16 days after his silence over the scandal, in which a party member was accused of doctoring a tip-off against President Moon Jae-in's son in the run-up to the May 9 presidential election.

He said at a news conference at the party's headquarters in Yeouido, Seoul, that it was his "limit and responsibility" to have failed to have a proper verification system. "All political and moral responsibility rests with me, the then candidate, and I will take the blame," Ahn said, vowing to look back on his past five years as a politician. However, he did not say he would retire from politics.
Ahn also asked the public to give his party "a second chance" to maintain the "hard-earned" multi-party system in an apparently desperate effort to save the party, whose approval rating has plunged below 5 percent in recent opinion polls. He said he had to remain silent about the scandal because of the need to know the facts about the case, which was under the prosecution's investigation.
Meanwhile, prosecutors investigating the case arrested Lee Jun-seo, then a supreme council member of the party, on Wednesday on charges of violating the election law by providing the party with unverified information of Moon's son. The prosecution also started probing into whether the party's leadership was aware of the manipulation.
Kwan-Seok Jang jks@donga.com · Ji-Hoon Lee easyhoon@donga.com