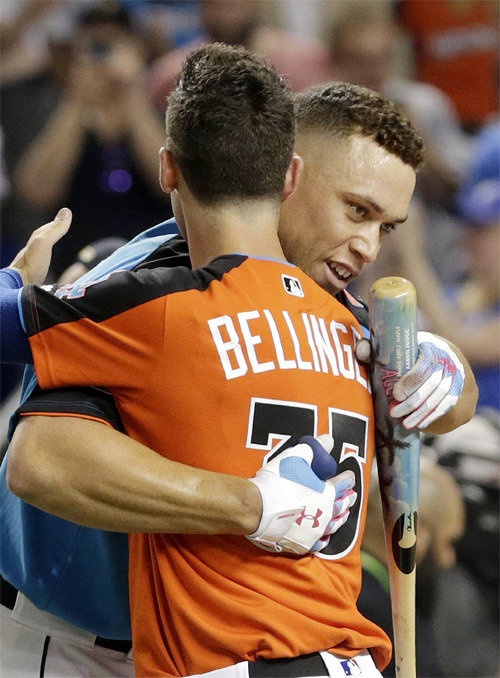 The TV commentator shouted "Oh, my God" when the ball that hit Aaron Judge's bat soared into the air.
Judge's hit resembled Tiger Woods' ball in his peak years. The commentator said nobody could know where the ball landed. Shortly after, the electronic display board showed the driving distance: 513 feet or 156 meters. It was an explosive home run. Not only the commentator, but also the spectators said, "Oh, my God."
A rising super star and rookie for Major League this season, Judge became the home run derby this season. It is the first time in All Star that a rookie made a solo win in home run derby.
The 2017 Major League All Star home run derby held at Marlins Park in Miami on Monday local time saw 185 home runs and among them four had a driving distance of 500 feet (about 152.4 meters) or over. And Judge hit all four of them.
Judge faced the biggest crisis at the first round when he met Justin Bour from the Miami Marlins. With home ground spectators' roaring applaud, Bour hit 22 home runs in just four minutes. However, the booing when Judge stood at the batter's box quickly turned into an applaud. As his home run flew past 500 feet into 501 feet, cheering sound got bigger. Judge displayed an unusual scene when his ball hit the dome, as he marked 23 home runs beating Bour who had 22 home runs.
In the second round, Judge easily beat another star rookie Cody Bellinger who had 12 home runs in the National League. When Judge hit his 13th home run, he still had one minute left. In the latter half, Judge displayed a more explosive play, as his 10th and 11th home runs flew 504 feet (about 154 meters) and 513 feet (156 meters), respectively. The final and 13th home run had a driving distance of 507 feet (about 155 meters). While other players showed a pull swing, Judge displayed a push swing.
The finals with Miguel Sano ended somewhat flatly. Sano hit 10 home runs, while Judge hit 11 home runs when he still had two more minutes to go, grabbing the victory.
Being asked on his 156-meter home run, Judge said, "Really? I didn't have a particular feeling," adding, "I didn't feel pressured today. I'm just a rookie. I had no expectations of winning. I just wanted to enjoy as it was my debut stage. It was a fantastic day for me. Sano said, "He's a monster. He was already like a monster when he was practicing batting."
In his first full-time year, Judge hit 30 home runs in the first half, creating a sensation by ranking No. 1 in Major League home runs.
Heon-Jae Lee uni@donga.com