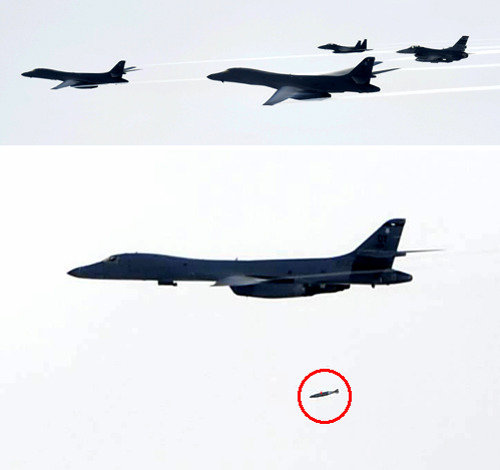 As North Korea has test-fired its intercontinental ballistic missile (ICBM), tension has been heightening on the Korean Peninsula. The U.S. sent the B-1B, a supersonic heavy bomber, to the peninsula to conduct a live-fire exercise for the first time on Saturday when Pyongyang was honoring the 23rd anniversary of Kim Il Sung's death. Pyongyang immediately backlashed by calling it a treacherous military gambling, which is intended to light the fuse of nuclear warfare. South Korean President Moon Jae-in said that the Korean Peninsula is currently faced with the most serious crisis since the Korean War.
Dubbed as "swan of death," a pair of B-1B supersonic bombers flew to the Korean Peninsula and conducted the simulated destruction of Pyongyang's ballistic missile launch by firing actual bombs. This was the first time that B-1B lancer strategic bomber had an open live-fire exercise against North Korea on the Korean Peninsula, which is seen as a strong message sent to Kim Jung Un after Pyongyang test-fired ICBM-range Hwasong-14 and Seoul-Washington conducted a joint artillery and missile exercise the next day. The B-1B bombers flew northward near the Military Demarcation Line before it flew out of the Korean Peninsula.
During the G20 summit meetings, U.S. President Donald Trump has delivered strong messages against Pyongyang. Having urged Chinese President Xi Jinping to put stronger pressure on the North, President Trump stressed at the meeting with Japanese Prime Minister Shinzo Abe that the world should make joint efforts to demonstrate Pyongyang that there are serious consequences for its destabilizing, provocative, and escalatory actions.
According to the CNN and other media, the U.S. Missile Defense Agency under the Department of Defense has confirmed that it aimed to carry out a new test of THAAD missile defense system against an intermediate-range ballistic missile at Kodiak Pacific Spaceport Complex located in Alaska, assuming Pyongyang's missile attack. This will be the first time that Washington conducts IRMB test by using THAAD.
"The U.S., with its dangerous military provocation, is pushing the risk of a nuclear war on the peninsula to a tipping point," North Korea's Rodong Sinmun backlashed on the news on Sunday.
weappon@donga.com · ddr@donga.com